It's true.  I dined in a duchess's boudoir at the Chateau de Versailles.  Full confession: the duchess's boudoir is nowadays known as Angelina's, the Versailles outpost of the celebrated Parisian tea room.
Generally speaking, I don't care to eat or drink at establishments that are inside tourist attractions, on the grounds that they are usually crowded and over-priced.  However, sometimes options are in short supply.  Such was the case on a very rainy day in late March (2016) during my visit to the Chateau.  Having just toured the Private Apartments (see the 2 previous posts) and the State Rooms, I was footsore, hungry, and slightly dehydrated.  My preference would have been to leave the Chateau and find a restaurant in the town, but one look out the window at people struggling to control their umbrellas in the gusting winds sent me in search of a restaurant inside the Chateau.  As far as I could make out, there was only one.  I followed the signs until I arrived here:
Naturally, I was not alone in having this notion and I was confronted by a long line of fellow visitors waiting for a table.  Angelina's is known primarily known as a tea room, but it does offer a limited menu of light meals.  The line for the self-serve snackbar was shorter, but I wanted to have a hot meal.  So I waited.  And waited.  For 40 minutes.  The wait turned out to be worth it, though.
The first things I noticed on the menu were the truffle dishes.  Now, when I was growing up in southwestern Ontario, truffles were not a thing that ever appeared at our local supermarkets or on restaurant menus, nor had I ever seen any in the great metropolises of East and Southeast Asia where I had spent the greater part of my adult life.  There was a truffle and chestnut soup on the list of starters, and a truffle ravioli among the main dishes, so I decided to expand my culinary horizons by ordering both.  When I gave my order to the handsome young waiter, he raised an eyebrow when I uttered the name of the second truffle item.  I suppose it is unusual to order BOTH a truffle appetizer and a truffle main dish.  Determined not to be talked out of my truffle project, I quickly asked what wine he would recommend for such a lot of truffle.  He counselled Sancerre, to which I agreed instantly, and a glass of that fine wine is what you see in the photos.  Then the soup arrived.
Not really knowing what to expect, I tentatively swallowed a quarter spoonful of soup.  I knew that the truffle is a fungus, of course, so I suppose I was expecting a mushroom-y taste.  The actual flavour — bear in mind that chestnuts were also involved — is difficult to describe.  The best way I can put it is that it tasted like thick and creamy, but savoury, hot chocolate.  It was very warming, and thus absolutely the right choice for the day.  It was also surprisingly filling, considering the small size of the bowl.  During the interval between the soup bowl being whisked away and the arrival of the ravioli, I was beginning to wonder if perhaps I wouldn't be able to finish them.  Sheer silliness, of course.
The portion wasn't very large, anyway, as you see above.  The truffle stuffing inside the ravioli had a somewhat mushroom-y flavour, but my main impression was of its meatiness.  Combined with the creamy sauce and the contrast of the fresh greens, it was a very memorable dish.  I am now a truffle convert!
When it came time for dessert, I was invited to walk over to the large display of pastries, cakes, and confectionary to make my choice.  I selected a religieuse au citron, which literally means 'lemon nun.'  She was beautiful.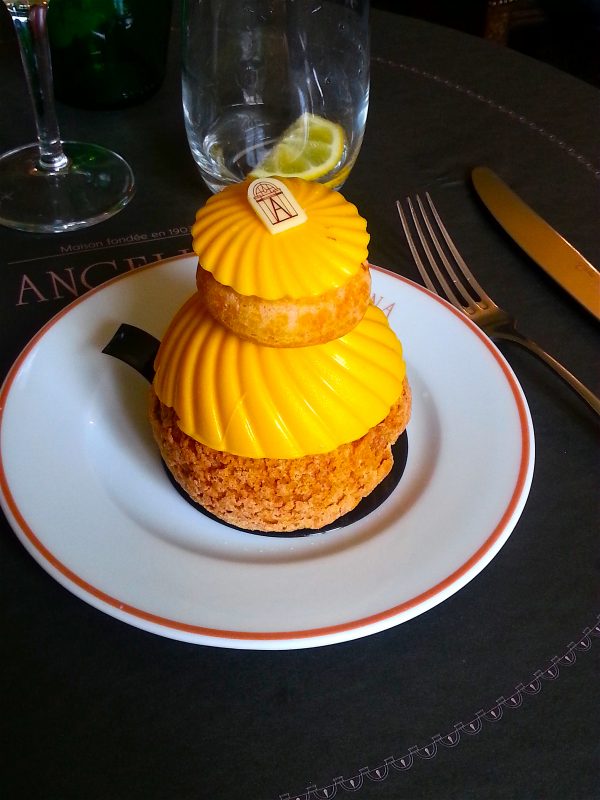 Not only was she beautiful, she contained a surprise.  She had a heart of toasted pralines concealed beneath her pastry corset and creamy chemise.
Sated now, I was able to take stock of my surroundings.  A small brochure on the table informed me that the Angelina dining room had actually been the boudoir of a duchess, namely the Duchesse de Luynes, chief lady-in-waiting to Louis XV's consort, Marie Leszczynska (1703-1768).
French Wikipedia tells me that this lady, born Marie Brulart in 1684, was the consort of the 4th Duc de Luynes, and was appointed lady-in-waiting to the Queen in 1735.  She served in that position, becoming the most senior lady in 1741, until her death in 1763, five years before her mistress's own death.  She was thought to be Marie Leszczynzka's closest confidante.
Her husband the duke wrote memoirs of their time at Louis XV's court which are important primary source materials for historians.  Both husband and wife were part of the Queen's inner circle and she dined with them often.  Nancy Mitford, in her Madame de Pompadour, relates the duke's complaint that it was very expensive for them to feed their royal guest.  Apparently, the Queen was heard to say that "she really must make it up to them in some way; they waited, hopefully, but in the end they only received gracious compliments."
Angelina received more than gracious compliments from me.  Three courses, a glass of wine, a bottle of sparkling water, plus a coffee, added up to the most expensive meal I had in France.  I have no regrets, though.  I relished every bite.  Basta!
I noticed on my way out, headed for the apartments of Mesdames, Louis XV's daughters (stay tuned for future posts), that the line had disappeared.
If you've eaten at Angelina's tea room and restaurant at Versailles, in Paris, or elsewhere, please leave a comment below to let me know what you thought of the experience.
I have plenty more Versailles material, but I think for the next few posts, I'll shift the scene to Portugal.