We're switching gears now.
The Versailles Century was led by France, but it played out all over Europe, indeed the world, as we'll see in due course.  This post is the first of several inspired by my travels in Portugal in April of 2016, when I visited Porto and Lisbon after leaving Paris and Versailles.  I'm going to bring you words and images about all the Versailles Century art and architecture I found in Europe's westernmost Latin country.  As it happens, Portugal is a great place to see French fine and decorative art because the Portuguese elite was so heavily influenced by French taste.  Versailles lovers, don't despair — there will be many more posts about the Chateau in future!
I don't know about you, but when I think of 18th century painting, a handful of artists spring immediately to mind.  Two that leap fastest are Canaletto (1697-1768) and Bellotto (1721-1780), probably the most famous uncle and nephew artists in history, both known best for their cityscapes.  It was my luck that when I visited the Museu Nacional de Arte Antiga (the National Museum of Ancient Art) in Lisbon, there was a special exhibition of a work by Bellotto.  The museum, which we'll call MNAA for short, went all out to highlight it: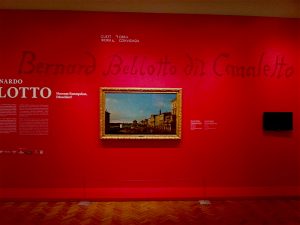 You might notice that the exhibition title says "Bellotto dit Canaletto."  Wikipedia tells me that Bellotto, who apprenticed in his uncle's studio, sometimes also used his uncle's name  in Germany and Poland, where both worked.  This painting, in fact, was on loan from the Museum Kunstpalast in Dusseldorf (apologies to German friends — I haven't yet learned how to do an umlaut on my new Mac).  In case you're wondering, the exhibition was just this one painting.
This work is titled A Via di Ripetta em Roma (The Via di Ripetta in Rome).  Let's take a closer look: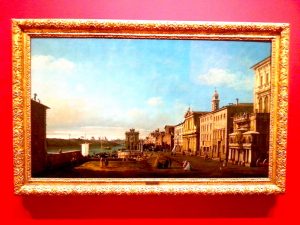 Bellotto, a Venetian, visited Rome in 1742, and this painting is thought to have been completed sometime between that year and 1744.  He left Italy in 1747 to seek his fortune in Germany and Austria, where he notably painted views of Munich, Dresden, and Vienna.  He eventually settled in Poland at the invitation of its last king, Stanislas Augustus,  and died in Warsaw.
The exhibition literature said that the Via di Ripetta no longer exists as a result of urban redevelopment in Rome in the 19th century.  One of the reasons, I think, that Canaletto and Bellotto have remained so popular is that their strict objectivity has preserved cityscapes like this for posterity.  Apparently, Bellotto's views of Dresden were used to rebuild historic areas of the city after it was bombed to bits in World War II.
Here's a close up of the street view: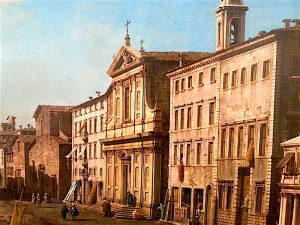 What I love about the work of both Canaletto and Bellotto, and also later that of Guardi (of which there's a whole room in the Gulbenkian Foundation in Lisbon — stay tuned) is the "slice of life" nature of their cityscapes.  It's probably the most exact depiction of life in the Versailles Century that's come down to us.
I learned a new word at this exhibition.  The Italian word for a painted view is veduta.  Well, here's a detail of this veduta showing the riverside quay: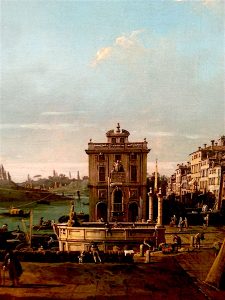 It gives a real flavour of the riverside bustle.  Note all the carefully drawn figures.  I find them the most fascinating of all.
Take for example this well dressed couple on the street: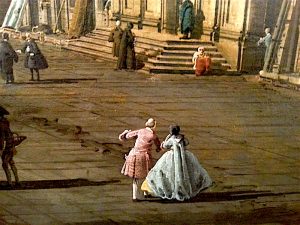 They're the only people on the street wearing such bright colours, a sure sign of money.  Is it a date?  Are they sightseers?  Is the gentleman perhaps on his Grand Tour?  Observe also the broken pavement.  Bellotto's eye clearly missed nothing.
This man with a dog also caught my eye: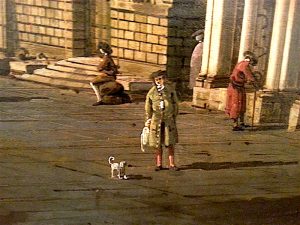 Is it just me, or does the man look like he's waiting for the pooch to do its business?  And what is that cloaked figure lurking at the entrance of the alley up to?
It's not just the street that Bellotto provides such vivid detail for.  Consider this upper floor view: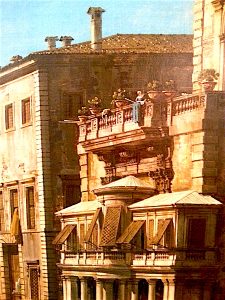 I love the maid on the balcony beating the carpet, or perhaps it's sheet or a garment.  I'm also intrigued by the sun shades on the windows of the middle floor.  When buildings are restored, such mundane features are not usually included.
I hope you've enjoyed this exploration of one of Bellotto's early works.  If you'd like to see more treasures from the MNAA, please let me know in the comments below.
Coming soon on Versailles Century: a short series on Porto, including treasures from another museum.