This week's musical monarch, Frederick the Great, was not only a music lover, but a proficient flautist and composer.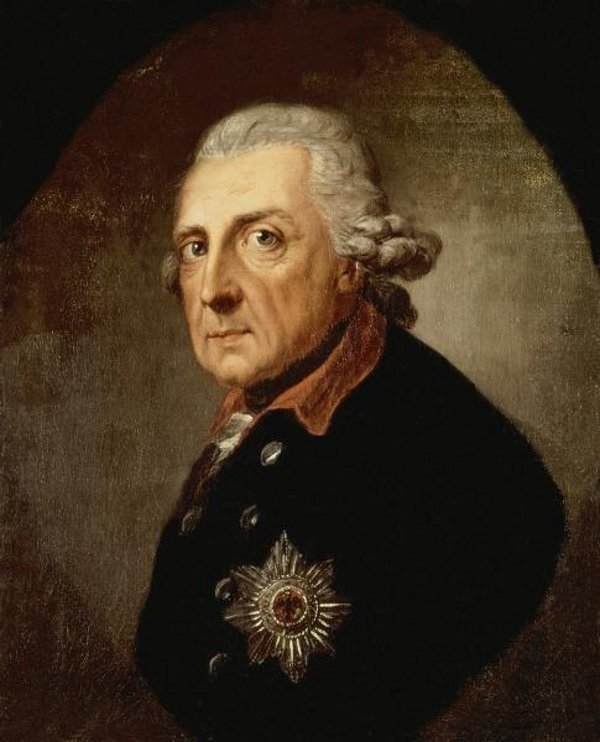 Frederick the Great.  Credit: Wikipedia.
Prussia's future third king developed his musical tastes and talent early.  In the little Crown Prince Frederick's household was one Rentzel, who was not only Frederick's drill master but a flautist.  Nancy Mitford, in her biography of Frederick, says of Rentzel that "it was he who started Frederick on music and taught him to play the flute, an accomplishment which was to mean so much to him."  Frederick's father, King Frederick William I, was not keen on the flute playing, which he regarded as effeminate, and at times attempted to ban his son from pursuing this past time.  He was not successful.
It was during Frederick's teens that another formative musical influence came into his life: the flautist Johann Joachim Quantz (1697-1773).  Although attached to the Saxon court in Dresden, he began to make regular visits to Berlin from 1728 in order to give lessons to Frederick.  Sometimes he had to hide from Frederick William.  After Frederick became king in 1740, Quantz accepted a permanent appointment and became one of Frederick's intimates for the rest of his life.  He served the king not only as his flute master, but also flute maker and composer.  His output for the king was vast: nearly 300 works for the transverse flute (according to Wikipedia).  Quantz's method of indicating an error to Frederick was to cough when the King played a wrong note.  Once, when there had been a lot of coughing, the King remarked sourly, 'What are we to do about Quantz's cold?'
After Frederick married Elisabeth-Christine of Brunswick-Bevern in 1733, he was permitted to set up his own household at Rheinsberg, a chateau northwest of Berlin.  There his musical activities no longer had to be kept secret and the evening concerts that became his principal recreation had their start.
It was at Rheinsberg that he engaged another composer, Carl Heinrich Graun (1704-1759), in 1735.  This Brandenburgian trained in Dresden, who was also a tenor, had come to Frederick's notice at the time of his wedding, for which he had composed an opera. Graun served and collaborated with Frederick for the rest of his life.  Most of his output consists of Italian operas.
As soon as Frederick came to the throne, he abandoned Rheinsberg and moved to Berlin, where he commissioned a host of building projects, chief among them an opera house. When it was finished in 1742, it was inaugurated with an opera of Graun's called Cleopatra e Cesare.  Here, thanks to the magic of YouTube, is an excerpt:
Another of Frederick's first acts on becoming king was to invade Silesia, thus launching the War of the Austrian Succession, as a result of which Prussia's territory was enlarged by a third.  It was during the war that Frederick started building, just outside Potsdam, the small palace, hardly more than a pavilion, that would be become his true home for the rest of his life: Sans Souci.
From the end of the war in 1748, except for the duration of the Seven Years' War (1756-1763), he would spend all the warmer months of the year at Sans Souci, leaving it for the town palace in Potsdam only when the winter cold became too much to bear.  Half the little palace, to the left of the bow front pictured above, was given over to guest rooms.  The other half, to the right, consisted of Frederick's own suite, composed of a combined bedroom/study, a library, a picture gallery, and, of course, a music room.
For the almost forty years until his death, the evening concert in this room was a staple of the King's daily schedule.  He himself performed, along with other musicians both professional and amateur.  Another of his court musicians was the young C.P.E. Bach.  On occasions, celebrated visiting musicians and composers also performed.  One illustrious visitor was  C.P.E.'s father, J.S. Bach (1685-1750), then near the end of his life.  Mitford is worth quoting in full:
"One evening, soon after he had moved into Sans Souci, he was playing the flute when d'Argens handed him the list of passengers who had been set down from the daily coach.  Frederick read it: 'Gentlemen, old Bach has arrived!' It was Johann Sebastian, whom the King had never met.  A carriage was sent for the old man and he was told to come at once without changing into his cantor's robe.  The King made much of him; the concert was abandoned and the two men went to try out Frederick's new Silbermann pianofortes, Bach extemporizing on them to the King's admiration.  He asked the King to give him a subject.  Frederick sat down and played one and asked for a fugue in six parts.  His theme, very modern with its descending chromatics, presented Bach with a a difficult problem.  He worked out several little canons, of a sad and haunting beauty, rather in the spirit of Beethoven's last quartets, and sent the fugue to Frederick as a Musikalisches Opfer dedicated to 'a sovereign admired in music as in all the other sciences of war and peace.' " (p 101)
But how well did Frederick actually play?  Mitford quotes Dr. Burney, who visited Sans Souci and was invited to stay for the evening concert.  He reports:
"He played the solo flute parts with great precision, his embouchure was clear and even, his finger brilliant and his taste pure and simple.  I was much pleased and surprised with the neatness of his execution in the allegros as well as by his expression and feeling in the adagios; in short his performance surpassed in many particulars anything I had ever among the dilettanti or even professors.  His cadenzas were good, but long and studied.  Quartz beat time with his hand and cried out 'Bravo!' to his royal pupil now and then at the end of solo passages. " (p 101)
Frederick was not content merely to play music.  He also composed music and libretti.  In 1755, he and Graun collaborated on a 3-act opera called Montezuma.  Frederick wrote the libretto and Graun furnished the music.  Here, once again courtesy of YouTube, is a snippet from the 1982 Deutsche Oper production of this opera:
Finally, Frederick composed numerous instrumental works.  According to Wikipedia, he turned out 100 flute sonatas.  Four of his symphonies have also survived.  Here, in a final offering from YouTube, is the allegro from Frederick's Symphony in D:
In old age, Frederick's teeth began to fall out and he was no longer able to play the flute to his satisfaction.  In compensation, he allowed himself an extra hour in bed.  This was a significant reward in view of the fact that he had risen between 3 and 4AM for most of his reign, retiring at 10pm.  As far as we know, the evening concerts continued even after the King gave up the flute.  Perhaps he played the harpsichord instead.  One hopes so, otherwise his evenings must have been dreary indeed after the lifetime of pleasure that music had given him.
I hope you've enjoyed this look at Frederick the Great's musical life.  I encourage you to seek out recordings of his compositions, which are available on CD, as well as on YouTube.