The following events occurred between 25 February and 2 March in different years of the Versailles Century (1682-1789).  I find most of them on the English or French wikipedias, but occasionally elsewhere.  Whenever possible, I link to further reading in English or recommend a print source.
The Ball of the Clipped Yew Trees, 25-26 February, 1745
It was on this night 273 years ago that Louis XV "hooked up" with Madame de Pompadour, who was then still Mme d'Étioles. The ball took place in the Hall of Mirrors at Versailles on the occasion of the wedding of the Dauphin, the King's son and heir. It was a masked ball, as the King wished to remain anonymous. The festivities got underway at 11pm. Sometime later, eight gentlemen disguised as clipped yew trees entered the hall. One of them, of course, was Louis XV. I can't do better than to quote Nancy Mitford's retelling of the scene in her book 'Madame de Pompadour':
"A very curious procession lurched blindly into the ballroom; eight yew trees, clipped like those in the garden outside, in the shape of pillars with vases on them. The King had made up his mind that, for once, he would be unrecognizable. In the print by Cochin of the scene in the great gallery, lit by eight thousand candles, many fancy dresses can clearly be made out and the yew trees are mingling with the crowd. Presently one of them went off with pretty Présidente Portail to a dark and solitary corner of the palace. She thought he was the King, and nestled happily among the twigs; but when she returned to the ballroom what was her fury to see that the real King, who had taken off his headdress, was engaged in a laughing conversation with Madame d'Étioles, dressed as Diana and also unmasked. 'The handkerchief is thrown,' said the courtiers. It was now clear to them that a love affair was beginning." (pp 57-58)
The ball did not end until half past eight on the morning of 26 February.
By the end of the year, Mme d'Etioles, newly created Marquise de Pompadour, was ensconced at Versailles in an apartment above the king's rooms. They would be together until her death nearly 20 years later.
Further reading: 'Madame de Pompadour' by Nancy Mitford.
Image: The Ball of the Clipped Yew Trees by Charles-Nicolas Cochin, courtesy of WikiCommons.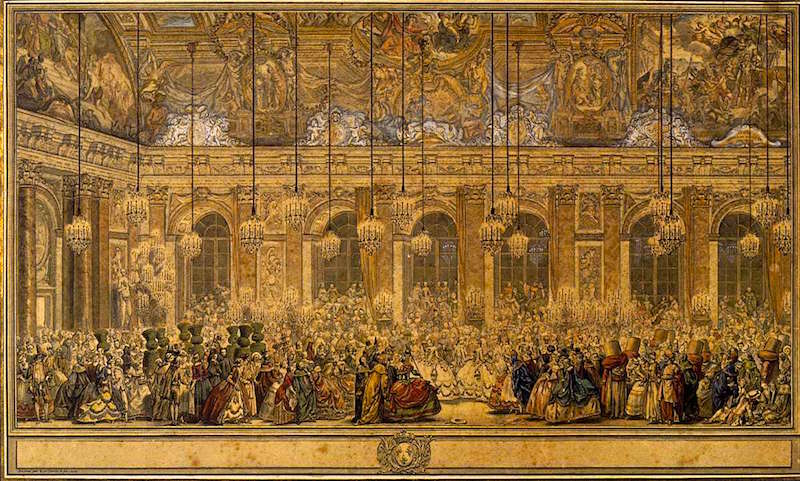 Expulsion of the Jesuits from Spain on 27 February, 1767
It was on this day 251 years ago that Charles III, King of Spain, expelled the Society of Jesus from all his dominions, which included most of Central and South America, as well as the Philippines. All the Jesuit houses and schools were closed. Later in the year, the Jesuits were also expelled from the territories of Charles' younger son, the King of Naples. These expulsions was part of a wave of similar expulsions carried out by the rulers of Portugal (1759), France (1764), and Parma (1768). In 1773, Pope Clement XIV suppressed the Society of Jesus completely. Exiled Jesuits were welcomed, however, by Frederick II of Prussia and Catherine II of Russia, who were glad of their educational skills. The Society slowly worked its way back to favour at the Vatican after its restoration in 1815. The present pope, Francis, is the first Jesuit ever elected to the papacy.
Further reading: https://en.wikipedia.org/wiki/Suppression_of_the_Society_of_Jesus
Image: Expulsion of the Jesuits from Spain by an anonymous artist; Musée de la Révolution française, CC BY-SA 4.0, courtesy of Wikimedia.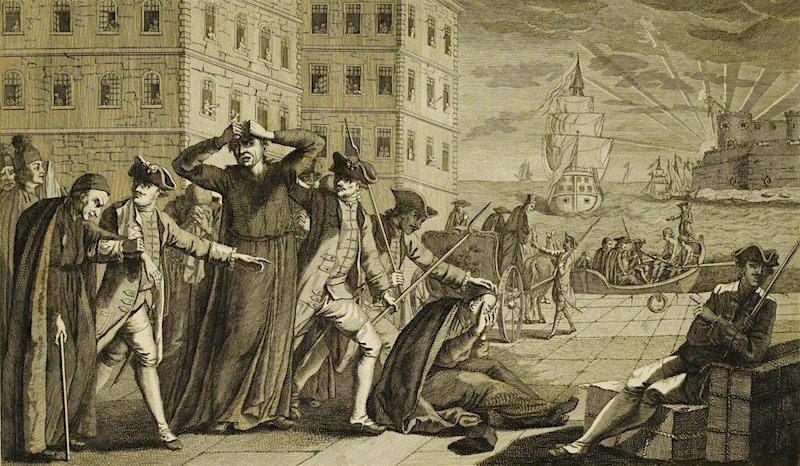 Birth of the Future Queen Caroline on 1 March, 1683
It was on this day 335 years ago that Caroline of Ansbach, was born. She would grow up to marry the son and heir of George I, King of Great Britain and Ireland, and Elector of Hanover. When her husband came to the throne in 1727, as George II, Caroline was his most influential advisor and ruled as regent during his frequent absences in Hanover. Her children included a Queen of Denmark, a Princess of Orange, and a Landgravine of Hesse-Kassel, and she was the grandmother of George III. When she was on her deathbed in 1737, George II famously said that he would never marry again and only have mistresses. He was as good as his word.
Further reading: https://en.wikipedia.org/wiki/Caroline_of_Ansbach
Image: Portrait of Caroline by Joseph Highmore, 1735 – The Royal Collection, Public Domain, courtesy of WikiCommons.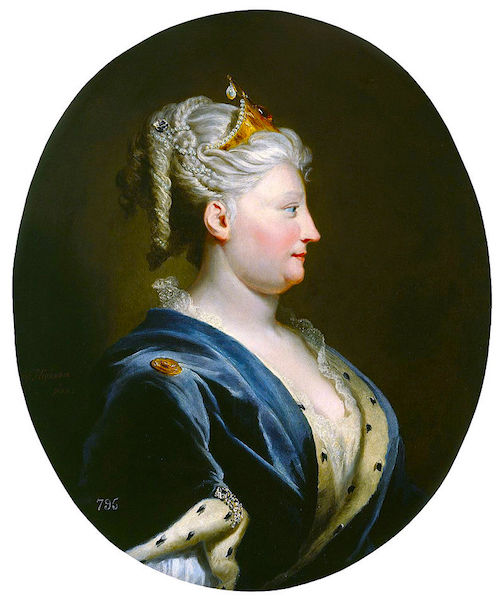 Death of the Duc de Saint-Simon on 2 March, 1755
It was on this day 263 years ago that Louis de Rouvroy, Duc de Saint-Simon died in Paris. His modern fame rests on his memoirs of the French court during the later years of Louis XIV's reign and the Regency. The complete memoirs range from 8 to 12 volumes, depending on the edition, and are the most extensive record of life at Versailles by someone who lived there. He disliked the Sun King and was a partisan of the Duc de Bourgogne until his premature death, and then of the Regent-Duc d'Orléans, who rewarded him with embassies to Rome and Madrid. After Orléans' death, Saint-Simon retired to his estates to write his memoirs, which were completed about five years before his death. They were not published in full until a century after his death.
Further reading: https://en.wikipedia.org/wiki/Louis_de_Rouvroy,_duc_de_Saint-Simon
Image: Jean-Baptiste van Loo (1684-1745), portrait of Louis de Rouvroy, duke of Saint-Simon, knight of the King of France's Orders in 1728. Oil on canvas. Private collection (Le Mallier, matrilineal heirs to the last duke of Saint-Simon, castle of Chasnay), reproduction after a photography of the original painting. Public domain; courtesy of WikiCommons.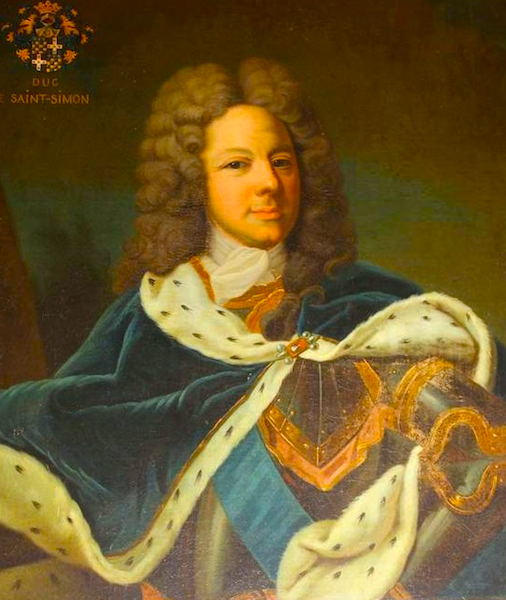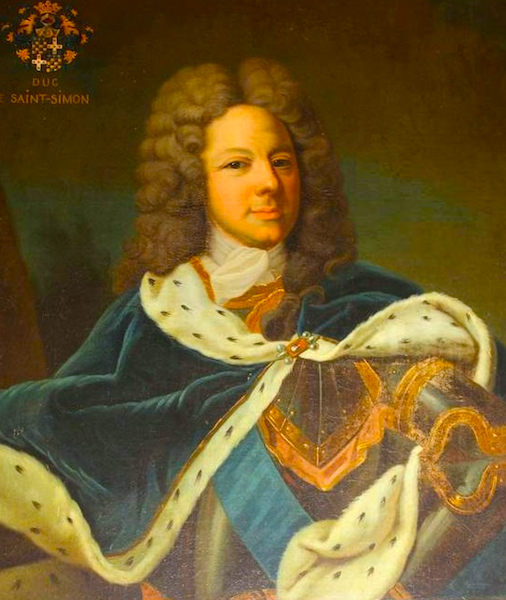 For daily (or at least several times weekly) updates, please 'like' and follow the Versailles Century page on Facebook, where these posts appear on the given dates.