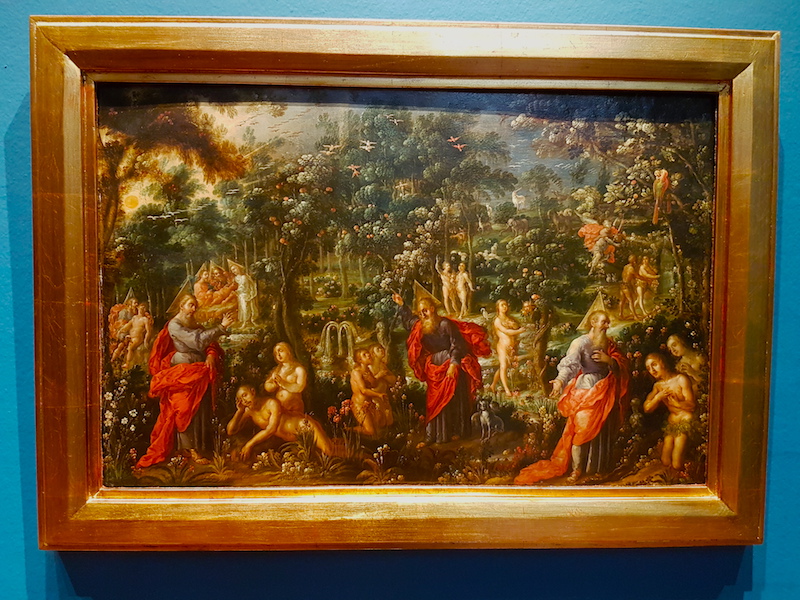 I had never heard of Cristobal de Villalpando (1649-1714) before stepping through the doors of the Palacio de Iturbide in Mexico City's Centro Historico in May, 2017.
The Palacio (see the previous post for details of this building: http://versaillescentury.com/2017/06/20/versailles-century-building-palacio-de-iturbide/#more-1068) now belongs to the Banamex Cultural Foundation, which happened to be running an exhibition dedicated to Villalpando.
Walking through the exhibition, I was thunderstruck by Villallpando's canvases and amazed that I had never heard of him.
As soon as I walked in I was confronted by his monumental Moses, the Bronze Serpent, and the Transfiguration of Jesus.
Villalpando was born in Mexico City.  He received his training in the studio of Echave the Younger, where, apparently, the style of Rubens prevailed.  Villalpando, indeed, has been called the foremost proponent of the Rubensian style in the New World.  Later in his career, though, he moved away from Rubens to a more original style.  According to art historian Clara Bargellini in Villalpando's Wikipedia article:
"Villalpando's early works attest to the influence of Peter Paul Rubens; however, as his style continued to develop, he moved away from the extremes of vivid coloring and excessive robustness to a more measured style, using a broad palette and incorporating more of the New World painting traditions.  In his later work he moved away from uniform luminosity, employing greater contrast and placing artificial light sources within his paintings to add a touch of drama."
Unsurprisingly, most of Villalpando's extant oeuvre is on sacred themes.  The Church was the major patron of artists in New Spain, after all.  Villalpando executed commissions in the cathedrals of Mexico, Querétaro, and Puebla.
In Mexico City's Metropolitan Cathedral, Villalpando was in charge of decorating the Sacristy, in which he painted several monumental compositions before 1700, which I made sure to photograph later on the same day that I visited the exhibition.
Walking around the Banamex exhibition, I was very taken by Villapando's "portraits" of angels, particularly this one of the Archangel Michael.
And also this one of St. Catherine of Alexandria.
My favourite of the 2 dozen or so works on display, however, was one of the artist's last known canvases.  This rendition of the flight of the Holy Family into Egypt dates from roughly the last decade of Villalpando's life and career.
Like Rubens, Villalpando managed to parlay his artistic prowess into considerable wealth and social standing.  He seems to have died rich, having served several times as head of the artist's guild and also as a captain of the civil militia.
I'm now keen to learn more about this great artist, but I may have to acquire a reading knowledge of Spanish to do so.  As far as I can tell, little has been written about him in English.  In fact, not much has been written about the art of New Spain at all.  As I learn more, I'll share with you.  I took dozens of photographs at this exhibition, including numerous close-up details, so from time to time I will publish posts about individual works by Villalpando.
If you have knowledge to share about this or other artists of New Spain, please comment below, on our Facebook page (https://www.facebook.com/versaillescentury/), or in our gallery on Instagram (@versailles_century).