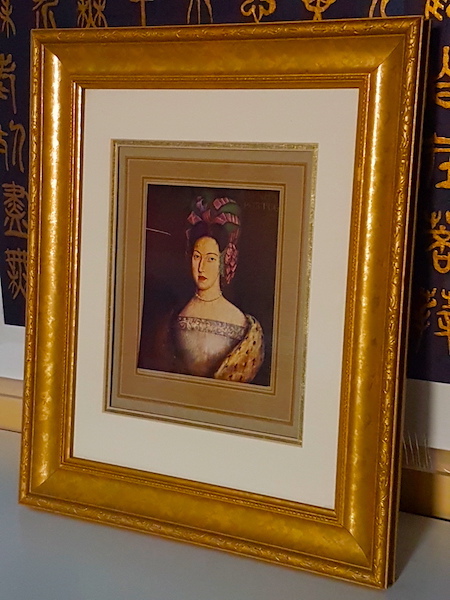 As princesses go, Maria Sofia von Neuburg was a very insignificant one at the time of her birth in 1666.  Her father, Duke Philipp Wilhelm, though a member of the illustrious house of Wittelsbach, was merely the Duke of Neuburg, a very small state on the banks of the Danube in southern Germany.  Other branches of the family ruled the larger, richer states of the Palatinate and Bavaria.  In fact, they were very nearly sovereigns, except that that they nominally owed allegiance to the Holy Roman Emperor in Vienna.  Diminishing Maria Sofia's prospects even further, she was not even an heiress.  Women could not inherit the duchy, and in any case she was only one of seventeen children.
Things began to look up for Maria Sofia and her siblings when their relative the Elector Palatine died sonless in 1685 and Duke Philipp Wilhelm succeeded him.  The family duly moved to the Palatine capital at Heidelberg.
Not long afterwards, a Portuguese delegation arrived to ask for Maria Sofia's hand on behalf of their king, Dom Pedro II.  Dom Pedro was a widower with a sickly daughter who needed to secure the succession to his throne.  The terms were agreeable to the Palatine-Neuburgs, and Maria Sofia married Dom Pedro by proxy in the court chapel at Heidelberg on 2 July, 1687.  Now officially Queen of Portugal and the Algarves, she set off down the Rhine and boarded an English yacht belonging to James II, which was escorted to Lisbon by an English naval squadron commanded by Charles II's illegitimate son the Duke of Grafton.
Arriving in Lisbon, she was met with great fanfare and married Dom Pedro again in person.  It was a political marriage handicapped by an 18-year age gap, but the couple seem to have got on and Maria Sophia would eventually give birth to 7 children, among them the future Dom João V (1689-1750).
She also met her sister-in-law, Charles II of England's widow, Catherine of Braganza, herself recently returned to Portugal after her husband's death, with whom she apparently did not get on.  They are said to have squabbled over questions of etiquette on several occasions.
According to the profile of Maria Sofia in the book pictured below, she was a good, pious, and kindly queen, much given to good works and acts of charity in aid of the poor.  Sadly, the gentle queen died of erysipelas in 1699, shortly after giving birth to her last child.
I extracted a print of Maria Sofia's portrait by António de Oliveira de Louredo from this book and mounted in a frame that I picked up from a local curio shop for only $10.  I think it turned out rather well.
What of Maria Sofia's other siblings?  Her eldest brother of course succeeded their father as Elector Palatine, and several other brothers became bishops, but it was the girls had brilliant destinies.  Maria Sofia's sisters included a Holy Roman Empress, a Queen of Spain, and a Duchess of Parma, and another sister married a son of King Jan Sobieski of Poland.
Did you know that Versailles Century has a Facebook page and an Instagram gallery (@versailles_century).  Please like and follow!