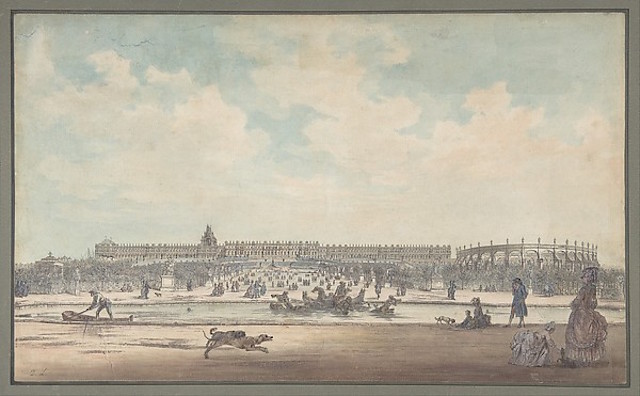 Mme de Boigne (1781-1866), née Adèle d'Osmond, was a French salon hostess and writer.  She was born in the Château de Versailles and lived at the court of Louis XVI and Marie-Antoinette until her family fled to England during the Revolution.  Later in her long life, she married a rich soldier of fortune 30 years her senior, hosted a brilliant salon in Paris, and became an intimate of the last French queen, Marie-Amélie, consort of King Louis Philippe (r. 1830-1848).  Childless herself, Mme de Boigne addressed her memoirs to her nephew.  The memoirs were not published until 1907, under the title Récits d'une tante, or An Aunt's Tales.  They've never been published in English, as far as I know, so I've decided to translate the first 5 chapters, the ones that take place mainly at Versailles, and post them here on this blog for interested readers to enjoy for free.
The chapters are quite lengthy, so I've broken each one into several parts.  In the first instalment (see below), Mme de Boigne breezily recounts her father's family history down to the time that he met her mother.  
A Versailles Childhood – Chapter 1, Part 1.1
Such great events occupied the the life of the generation that precedes you and absorbed so much of its attention that the family traditions would be lost if some old woman such as I did not revisit her childhood memories in order to write them down.  I will endeavour to string a few together for your use, dear nephew.
Giannone, in his History of Naples, will instruct you in the most brilliant pretensions of your family, and Moréri will explain the rights that you have to believe yourself the descendant of those fortunate Norman adventurers who conquered Puglia, rights as well founded as are most of these family pretensions to antiquity.  Salisbury Cathedral shelters the mortal remains of one of its archbishops, Saint Osmond, to whom we also attach ourselves. The coat of arms of the county of Somerset has its vol, or pair of wings, which are also part of your arms; they have theirs from their lord Osmond, the compatriot of William the Conqueror.  These arms were given by the Duke of Normandy to his governor, Osmond, who had saved him from the vengeance of Louis d'Outremer.
The English branch was extinguished long ago, but its name has remained familiar and perpetually recurs in poems and novels.  The Norman branch impoverished itself through equal inheritance.  The eldest sons of the last three generations that preceded my father's only had daughters, and in such great numbers that they made very poor marriages.  Thus one of my great-aunts, the Canoness of Remiremont, when her sister's husband asked if she ever regretted never having married, replied, "No, brother, the Osmond girls are in the habit of making such bad marriages!"  This is all I will tell you about our family.
If, when the time comes that you go into the world, you attach some value to these noble memories, you will more easily find traces of these distant times than intimate details of what has happened in the last hundred or so years.  In any case, I am not very good at these tales.  I have never attached much value to the advantages of birth.  They were never called into question when I was a girl, and then as a woman I had no right to them; perhaps this situation has prevented me altogether from occupying myself with them as much as many others do.  Therefore, I only want to recount to you those details that come to mind from the memory of what I have personally heard or seen, without pretence of any great narrative, and only as anecdotes that will interest you by virtue of my relationships with the people in question.  It will be a sort of gossip, the whole value of which will be in its sincerity.
My grandfather was a naval man.  Still very young, he was in command of a corvette during the war of 1746, and he was ordered to escort a convoy from Rochefort to Brest.  A frightful storm dispersed the vessels and blew his own to the port of Martinique, where it arrived greatly disabled.  My grandfather found the colony in a state of great festivity, with parties and illuminations.  As soon as he debarked, he was asked if he was bringing dispatches for His Highness.
"Which Highness?"
"The Duke of Modena."
"I've never heard of him."
His Highness sent for him.  He was conducted into the apartment that the commandant had vacated for a very good-looking man festooned with orders and ribbons, and with a high-handed way of speaking: "How is it, Chevalier d'Osmond, that you have no dispatches for me?  Is your vessel not the one that was to be sent to me?"  My grandfather explained that he had left Rochefort for Brest, and the circumstances of his arrival in Martinique.
The prince covered him with compliments and gave him the order to leave on the spot with his dispatches.  The corvette was not in a fit state to take to the seas again; fortunately, there was a small schooner in port.  The prince gave command of it to my grandfather, authorized him to abandon the corvette, and, showing him a letter that enjoined M de Maurepas to make my grandfather a captain, explained to him that he was a first cousin of the King by marriage.  He had ceded his duchy of Modena to the King, which was a great secret, and in exchange he had been offered the sovereignty of island of Martinique; he had not wanted to give his assent without first taking stock of his new residence.  He was in fact very happy with it, and he was sending my grandfather back with the ratification of the treaty, which was awaited with such lively impatience at Versailles that the bearer of this good news could aspire to all kinds of favours.  In consequence, he added a postscript to his letter asking for an appointment to the Order of St. Louis and promotion to the rank of captain of a ship of the line for Chevalier d'Osmond.  My grandfather mentioned a vessel of which the captain was due for a change.
"This vessel pleases you?"
"Assuredly."
"Then I shall give you command of it.  I am going to write to Maurepas that I am making
a condition of it."
The Duke of Modena was surrounded by a court and household that he had brought with him, a grand chamberlain, a grand equerry, a valet, etc.  The whole colony from the governor down to the least African was at his orders, and my grandfather, who had started from a position of great incredulity at the time of his arrival, finished up convinced that this man who distributed promotions and badges of rank was a true sovereign. He set off, forcing the sails to the point of risking a shipwreck, threw himself into a rowboat as soon as he sighted land, jumped on a post nag, and arrived on the doorstep of M de Maurepas at Versailles without having taken a moment's rest.  Finding that the Minister was out, he did not want to leave the premises without having seen him, so he was put into an anteroom to wait.  An old valet, interested by his agitation and his charming appearance, had something to eat brought for him.  He devoured it, and then fatigue and youth overcame him. He sat down in an armchair and fell into a deep sleep.
The minister returned.  No one gave a thought to the Chevalier d'Osmond.  Undressing his master in the evening, the old valet spoke of the young naval officer who was so determined to see him.  M de Maurepas had heard nothing about it.  Inquiries were made, a search was undertaken, and the Chevalier was found asleep on his chair.  He woke up with a start, went in to see the Minister, and handed him a thick packet.
"Here is the signed treaty, Monseigneur."
"Which treaty?"
"The Martinique treaty."
"Martinique?"
"It is the Duke of Modena who sent me."
"The Duke of Modena? Ah, I am beginning to understand. Go to bed, get a good night's
sleep, and come back in the morning."
The Minister laughed aloud at the young officer's dream, which was continuing even as he was speaking to him, but as he read the strange dispatches, he thought he was dreaming, too.  All the island's authorities were under the same spell, and the "prince" himself had written in all seriousness in the voice of his adopted character.  The letter he had showed to my grandfather was in the packet.
The following morning, M de Maurepas received him benevolently, and apprised him of the fact that his "Duke of Modena" was an adventurer who had probably wanted to be rid of him.  As for the rest, it was hardly extraordinary that a young man should have come to share the attitude so well-established in the colony, and he absolved him of the error of having left his corvette behind.  The vessel which "His Highness" had promised him had already been given to someone else, but out of regard for his "cousin's" recommendation, and because he was a good officer, the King was giving him command of a frigate, aboard which M de Maurepas hoped he would soon merit being named to an order of chivalry.  My grandfather, ashamed of and sobered by his dreams of good fortune, slunk back to Brest, very glad nonetheless to have got out of the abandonment of his corvette so well.  As for the "Duke of Modena," he was so well settled in his usurped position that he was unable to tear himself away; he was arrested in Martinique, unmasked as a fraud, and sent to the galleys.
A few years later, my grandfather, having been to St. Domingue, married a Mlle de La Garenne there.  They were distantly related, their mothers having both been Pardieu girls, and she appeared to be very rich.  She did in fact have some splendid properties, but she was so indebted that my grandfather had to resign from the service and go to live in the colony in order to try to put some order in her affairs.  Various unfortunate circumstances detained him there, and he never left again.  Over the following years, he sent six boys in succession back to Europe.  The last arrival was the most unfortunate.  The child, who had been sitting on a bridgehead with a cable coiled around it, was thrown into the sea, thus necessitating the use of the same cable, and was drowned.
The other five all arrived safely at their destination.  The first was my father, the Marquis d'Osmond; then came the Bishop of Nancy; then the Vicomte d'Osmond; then the Abbé d'Osmond; then finally the Chevalier d'Osmond, who perished as a naval lieutenant in the American war.
All these children were received paternally by a brother of my grandfather, then Comte de Lyon and soon after Bishop of Comminges.  The eldest of this generation, the Comte d'Osmond, according to the custom of the family, begot only daughters on his wife, Mlle de Terre, and, also according to custom, these girls married very badly.  They succeeding in wresting from the Osmond name all the ancient patrimony of the family, among other properties Ménil-Froger and Médavy, which had been in the family since the year 1000.
This Comte d'Osmond was a chamberlain to the Duc d'Orléans, the grandfather of King Louis-Philippe, and was on very intimate terms with the inhabitants of the Palais-Royal, above all with the King's mother, who treated him with an entirely maternal affection.  The memoirs of the time cite his absentmindedness, which did not prevent him from being very kind, good company and most obliging.  I will have occasion to speak of him again.  I have just said that he was chamberlain to the King's grandfather; he would not be chamberlain to the son and this is why: it comes down to one of those details of court life that seem ridiculous to our generation, but it is aspect of tradition that is disappearing, and which, for that very reason, acquires a certain interest by virtue of its curiosity.
King Louis XV had confirmed the Duc d'Orléans, designated by the nickname "the Fat Duke of Orléans," grandson of the Regent, in the rank of First Prince of the Blood even though he no longer had the right to it, but since in the senior branch of the family there were only the sons of the Dauphin, who held the rank of Children of France, this favour was accorded to the Duc d'Orléans.  Now, the household of the First Prince of the Blood was appointed and paid by the King, and people of quality made no difficulty about entering it.  In the households of the other princes of the blood, the first gentleman and the first equerry only were appointed and paid by the King; a man of the court could only accept one of these appointments in their households.
On the death of the Fat Duke of Orléans,1 his son2 vigorously solicited the continuation of the rank of First Prince of the Blood.  The birth of the Comte d'Artois' children provided a motive to refuse, and, the Court being little disposed to do what the new Duc d'Orléans wished, he could not succeed.   He would have been forced to seek companions from a different class than those of his father, and this circumstance decided him not to name a household and, under the pretext of reform,  to give up any type of representation; it contributed not a little to the ill humour that landed him in the misfortunes that led to a death that he deserved only too well.
I will return to our family.  My grandfather also had a sister who resided with her brother, the Bishop of Comminges, at Allans in the Pyrenees.  There she married a M de Cardaillac, a man highly regarded in the surrounding area, the proprietor of a very pretty chateau and the bearer of a name as ancient as the mountains themselves.  The name is extinct now, but that is not the fault of our aunt, for in three years of marriage she had had seven children: two, two, and three.  The Bishop of Comminges was in Paris at the time of the last delivery, and when he received news of it, a lady who happened to be present said to him, "Monseigneur, write quickly that they should save the best looking one for you!" This same Mme de Cardaillac tumbled over a precipice, dragged over the edge by a wagon laden with sandstone; she arrived at the bottom in this strange company.  Everyone thought she had been dashed to pieces, but she came out of it with a fractured leg and had several more children afterwards.
My father and my uncles were raised with the greatest care under the watchful eye of the Bishop of Comminges.  They were accepted at the best boarding school in Paris.  There they were under the personal supervision of a very learned tutor, who, by way of instruction, used to kick them in the stomach, and did little else.  The result was that when, at age fourteen, a uniform was put on my father, he finally had the courage to inform the Bishop that for six years he had been desperately unhappy, and knew nothing at all.  This revelation benefited his brothers.  As for him, he was put on a post nag and sent off to join his regiment at Metz.  Fortunately, he did not develop a taste for the café life, and during his early years of garrison life made up for the education that the Bishop had piously believed was as excellent as it was expensive.
Having attained the age of nineteen, my father received a present of two thousand écus from Saint Domingue, above and beyond his allowance, to amuse himself during the first furlough that he was going to spend as he liked on his own, and therefore in Paris.  The young man used this money to get himself to Nantes and to take passage on the first ship that he could find in order to spend his precious free time with his father and to get to know him, for he had left Saint Domingue at the age of three.  This loving haste succeeded in completely winning the paternal heart, and father and son always adored one another.  As for my grandmother, she was a blunt Creole for whom her children only ever had a dutiful affection.
Several years went by.  My father pursued his military career, spending his winters in Paris at his uncle's house and in the intimate society of the Palais-Royal, where, because of the Comte d'Osmond, he was treated as a son of the house.  He was appointed lieutenant colonel of the Orléans regiment3 as soon as his age allowed him to benefit from the prince's benevolence, and Mme de Montesson,4 already married to the Duc d'Orléans, was very good to him.  He always devoted as much time as he could spare to the Bishop of Comminges, accompanying him to take the waters at Barèges, where they encountered a Mme and Mlle Dillon, with whom the Bishop fell almost as much in love as his nephew.  He invited these ladies to come to Allan, a chateau situated in the Pyrenees which was the residence of the Bishops of Comminges, where he absolutely wished the wedding to be held right away in order that his pretty new niece could do the honours of the house, and be established in Paris that very winter.  However, my father did not wish to marry without his own father's consent, and the wedding was put off until the spring.
In 1785.
Louis Philippe Joseph, called Philippe-Égalité.
In 1776.  He was born on 17 December, 1751.
This secret marriage took place in 1773.
I present Mme de Boigne's text without footnotes other than the ones that were included in the first edition of her memoirs.  If you have any questions about any of the information, please comment.  If you've enjoyed this passage, please share it!