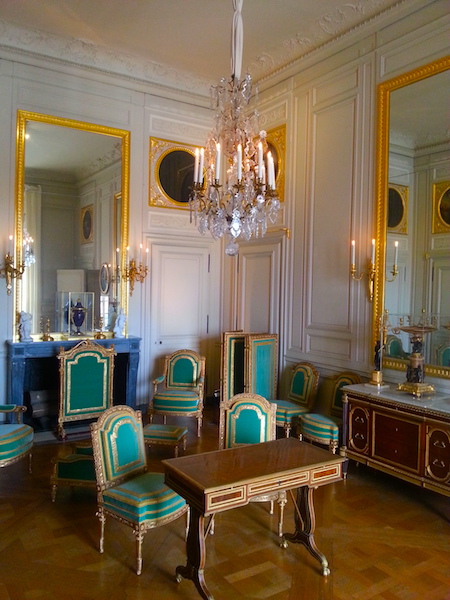 Part 3.1 is the beginning of Chapter 3.
A Childhood at Versailles consists of the first 5 chapters of the memoirs of Mme de Boigne (1781-1866), née Adèle d'Osmond, who was a French salon hostess and writer.  She was born in the Château de Versailles and lived at the court of Louis XVI and Marie-Antoinette until her family fled to England during the Revolution.  Later in her long life, she married a rich soldier of fortune 30 years her senior, hosted a brilliant salon in Paris, and became an intimate of the last French queen, Marie-Amélie, consort of King Louis Philippe (r. 1830-1848).  Childless herself, Mme de Boigne addressed her memoirs to her grandnephew.  The memoirs were not published until 1907, under the title Récits d'une tante, or An Aunt's Tales.  They've never been published in English, as far as I know, so I've decided to translate the first 5 chapters, the ones that take place mainly at Versailles, and post them here on this blog for interested readers to enjoy for free.
The chapters are quite lengthy, so I've broken each one into several parts. In Part 3.1, the author relates how, as the only non-royal child at Court, she was spoiled by members of the royal family, including the King and Queen.
A Childhood at Versailles, Chapter 3, Part 1 (3.1)
I was literally raised on the knees of the royal family.  The King and Queen above all heaped kindness on me.  At a time when, as I have already said, children were put out to nurse, then to be weaned, and then sent to a convent, and when, dressed as little ladies and little gentlemen, they only appeared, sulky and grumpy, to be put on display, I, with my cambric frock and a profusion of blonde hair that adorned a pretty little figure, was extremely striking. My father amused himself developing my intelligence, and I was quite sincerely found to be a little prodigy.  I had learned to read with such great facility that at three years old I read and declaimed Racine's tragedies for my own pleasure and even, it was said, for that of others.   
It pleased my father to take me to the theatre at Versailles.  I was taken away after the first play so as not to keep me up, and I remember that sometimes the King would call me into his box to have me recount the play I had just seen.  I added my own reflections, which were usually a great success.  To tell the truth, one day I said to him in the midst of my literary remarks that I felt a great desire to ask a favour of him; encouraged by his indulgence, I confessed that, since my ears were going to be pierced the next day, I coveted two of the smallest pendants of the chandeliers in order to have some earrings made.
I remember, by the joy that I felt from it, a story of the same kind.  Madame Adélaïde, who spoiled me with all her heart, one day had me tell a fairy tale of my own invention.  A fairy had given a princess a palace of diamonds, with all the magnificent things that would ensue; and, finally, to top them all, the heroine had found in a secretary made of ruby a treasure of one hundred and six francs.  
Madame Adélaïde profited by this story, and, having obtained from my mother with all possible grace, arranged for me to find in my  small secretary, which was not made of ruby, a hundred six-franc coins, with a paper on which was written one hundred and six francs for Adèle, as had been done for the princess in the story.  I am not entirely sure that I knew how to count to a hundred, but I still remember my shock at the sight.
My parents had ended up spending the whole summer at Bellevue.  My room was on the ground floor looking onto the courtyard.  Madame Adélaïde used to take very long walks every day in order to go inspect her workers.  She would call me while passing; my hat would be put on, I would climb down through the window, and I would set off with her, without a maid.  She was always followed by a rather large number of valets and a small trap harnessed to a horse and led by hand, which she never entered, but which I frequently occupied.  Nevertheless, I liked still more to run after her and make what I called conversation with her.  
I had as a rival and friend a large white spaniel, extremely intelligent, who also took part in the walks.  When there happened to be a bit of mud in the road, he would be put into a large canvas bag and two men attached to his service would carry him.  As for me, I was very proud of being able to make my way without getting dirty.  
Back at the chateau, I vied with Vizir for his red velvet bed, which he would sooner let me usurp than abandon the waffles that were crumbled for us on the parquet.  Often the good princess would get down on all fours and run around with us to restore the peace or to win the prize of the race.  I still see her with her tall thin figure, her purple frock (the Bellevue uniform), her butterfly bonnet, and two large teeth, the only ones that remained to her.  She had been very pretty, but at this time she was quite ugly and seemed so to me.
At great expense, Madame Adélaïde had a magnificent doll made for me, with a trousseau, a basket, jewelry, among other things a watch by Lépine,19 which I still have, and a duchess bed in which I slept in until the age of seven, which determined its proportions. The presentation of the doll was a party for the whole royal family. They came to dine at Bellevue.  I was sent for when they had left the table. The double doors opened, and the doll arrived, conveyed on her bed and accompanied by all her accessories.  
The King took me by the hand: 
"Whom is all this for, Adèle?"
"I believe it is for me, Sire."
Everyone began to play with my new property.  Then they wanted to have me replace the doll in the bed, and the Queen and Madame Élisabeth, kneeling on either side, amused themselves by doing it, with bursts of laughter at their skill in turning the mattress.  Alas!  The poor princesses hardly thought that only a few years later, it was in 1788,* they would be reduced to making their own beds.  How outlandish such a prophecy would have seemed!
All these memories are still with me.  Not that I attached any importance to the grandeur of the people; I was too accustomed to it. It is because they spoiled me and procured for me all the sweet things and little pleasures to which children are susceptible.  
Notes:
19. Clockmaker to the King. This very pretty little gold watch belonged to the Marquis d'Ormond, who had inherited it from his great aunt.  
*Translator's note: This must be an error. They would not have had to make their own beds until their imprisonment in the Temple in the autumn of 1792.
Stay tuned for Part 3.2.  It should appear sometime in the third week of April, 2018.