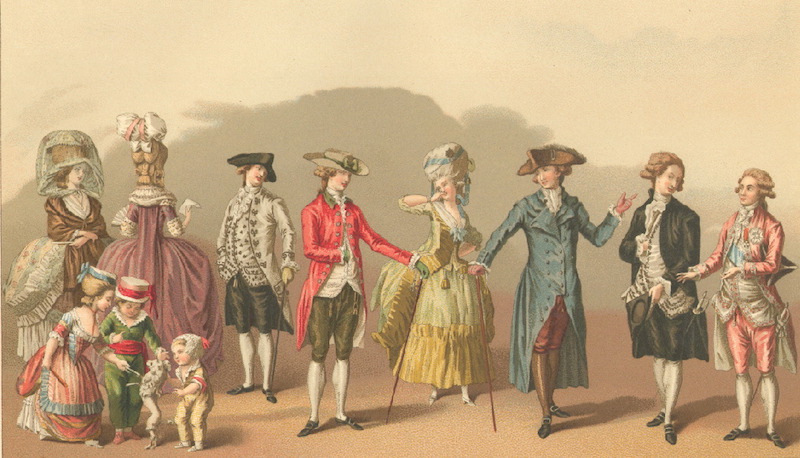 La Maréchale d'Aubemer, Nouvelle du XVIIIème Siècle, or The Widow of Field Marshal d'Aubemer: A Novella of the 18th Century, posthumously published in 1867, is a novel by the author and memoirist Madame de Boigne, born Adélaïde d'Osmond (1781-1866).   Mine is the first English translation, available here for the first time anywhere.
In Chapter 5,  we meet the amoral Marquis d'Estouteville and his son Henri. 
THE WIDOW OF FIELD MARSHAL D'AUBEMER: A NOVELLA OF THE 18TH CENTURY
CHAPTER FIVE
A Courtier
The Marquis d'Estouteville, a grand but fiscally embarrassed lord, and a very skillful courtier, concealed a profound immorality behind exquisite good breeding, and dissimulated his egoism behind the appearance of obligingness and flightiness.  He seemed to have ruined himself carelessly and to provide pleasure to others, but he kept a better reckoning than one would have imagined and made no sacrifices except for his vices.  He had sometimes been able to exploit those of princes and people in power in a way that was quite useful to himself, but with such a skillful, light hand and from such a lofty distance that one would have had to be privy to the details of his life to attribute to him the contempt that his conduct merited.  Otherwise, his manners were charming, and of the sort of breeziness, due to his indifference to everything, that made him eminently sociable.  He showed great regard for his wife, whose angelic virtues he vaunted to the world, but which he himself did not appreciate.
As long as she lived, she remained exclusively in charge of the education of their only son, and though Henri was only seventeen at the time of the Marquise d'Estouteville's death, she had already succeeded in planting and germinating the seeds of all the best and most noble sentiments in his heart.  For his part, M d'Estouteville had never tried to counteract her in this pious duty.  He had grasped that he would encounter an invincible resistance and had no intention of hazarding his peace of mind.  She was useful to him and it cost him very little to keep her.  Never a word nor even a smile from his father could ever have led Henri to suppose that his father did not share the maxims of high morality professed by his mother, and if his love for her was more tender, more exclusive, his regard for the Marquis was equally great.  Mme d'Estouteville refrained from disturbing this regard, and limited herself to fighting those influences that could have operated to seduce him at the time of his entry into society.  Fate, however, decided otherwise, and a violent fever carried the Marquise off so rapidly that Henri, then with his regiment, was not able to arrive in time to receive her last words.  Perhaps at this supreme moment she would have warned him against the fallacious doctrines of the Marquis.  They were only too well known to her, for, before posing as an admirer of her virtues, he had tried to make her an accomplice to his intrigues.  However, death did not accord her an instant, and his cruel work was completed several hours before the devastated Henri arrived.
His despair touched the Marquis d'Estouteville.  He himself regretted this woman whose merit, which he had often exploited, had not constrained him in any way, but his son's grief soon became very tiresome for him.  The keeping up of outward appearances being second nature to him, he did not even think of submitting to a seclusion of a few weeks, but set about alleviating Henri's sadness in order to avoid it becoming contagious.  He went about it with such apparent goodness and benevolence that the young man, deeply touched by such tender attentions, transferred all the affection he had felt for his mother to his father, and made an effort to hide his pain in recompense.  The callowness of youth took care of the rest.  Before long, Henri was taking taking a very real part in the distractions that his father sought to procure for him.  They were all intellectual — witty conversations and light reading.  The Marquis changed the course of his studies, which had until then been directed by the Marquise and a tutor, a man of distinguished merit.  The new authors that were put into his hands gave rise to conversations in which the Marquis applied himself to discovering his son's private sentiments and to combating his scruples with gentle jokes without ever jarring them, trusting in the passion of youth to destroy them.  Finding his son too young to go into society, he sent him off to his garrison,1 not reflecting that his virtuous old teacher, a canon at the cathedral, lived in the same town.  Henri lost no time falling under his salutary influence, and, once again, the chaff was separated from the good wheat so carefully sown by his mother.
And so Henri reached his twentieth year.  The praise lavished on his conduct by his colonel, who pronounced him an example to the regiment, alerted the Marquis that his hopes would not be fulfilled as long as Henri remained in the vicinity of the Abbé Blondel.2  He had him named captain in another regiment, obtained a leave of two years for him, and selected a man of letters, distinguished by his wit, and who enjoyed an honourable reputation, but was easy in his morals and worldly in his speech, to accompany him on travels whose itinerary was fixed and led to periods of residence at the most brilliant courts of Europe.  A sufficient income was placed at their disposal so that they could appear everywhere in a style suitable to the rank of the young Comte d'Estouteville.  The Marquis's only instruction for the mentor to whom he entrusted his son was the secret request to bring him back "a little less monkish" than he was when he left.  Enchanted to be traveling and touched by the solicitous benevolence with which his father busied himself in satisfying all his wishes, Henri took leave of him with redoubled tenderness and confidence in his paternal affection.  It should not be believed that the Marquis himself would ever have admitted to the satanic project of corrupting his son.  Far from it; he desired for him all the qualities of a worldly gentleman, and he persuaded himself that he only wanted to correct some romantic exaggerations inspired by his mother, which rendered Henri ill suited to living in the society to which he belonged, and which made him unlikely to lend himself to an arrangement which the Marquis's affairs, it must be admitted, had made nearly indispensable.  The Marquis was the guardian of two children, the daughters of a prince of a sovereign house by an unacknowledged morganatic marriage.3  The mother had died giving birth to the second.  Soon after, the prince, to please his father, contracted a royal marriage, and the children were entrusted to the good offices of the Marquis, accompanied by the assurance of a fat dowry for them.  This fortune inspired his avidity, and he desired all the more to appropriate at least a part of it by marrying the elder sister to Henri, as the dilapidated state of his own affairs would place an insurmountable obstacle in the way of any other alliance for his son.  Let us do him the justice of observing that the little German girl's millions would not have made him overlook the stain of bastardy; however, the mother had been a girl of good family, he had proofs of the marriage, and he was resolved to publicize them so that the Estouteville escutcheon would be not tarnished.  His scruples ended there, but not his worries: he expected to find on Henri's part a certain repugnance towards this left-handed alliance, but his was not the principal difficulty, for these love children were of a bitter and boundless ugliness.  Now, the principles frequently enunciated by Henri, and his feelings about conjugal union, scarcely accorded with the appearance and intelligence of the wife his father intended for him.  It was, then, precisely these prejudices of an exaggerated, untimely, and old fashioned morality of which he wished to rid his son.  In the meantime, the large sum intended to provide an establishment for the two little Comtesses de Toreignstein maintained them modestly in their convent and furnished luxuries for their guardian, who was always short of money.  Around the time that Henri's travels were coming to an end, the elder of the wards succumbed to her weak constitution.  This death, doubling the dowry of the younger, also redoubled the Marquis's desire to marry her to his son, but she was only eleven years old and the wedding could not take place right away.
The instruction given by the Marquis had prospered when Henri returned to Paris.  Along with a taste for expenditure, the nonchalance of a great lord, and the aplomb bestowed by success, he brought back a heart accustomed to flitting from beauty to beauty effortlessly and carelessly.  He had had successes in Vienna, in Berlin, and in St. Petersburg, and in Warsaw a nearly tragic affair that had reverberated throughout Europe.  Having arrived at this point, shaped in such a way by his travels, his father no longer hesitated to unburden himself to him.  He laid out the state of his inheritance, nearly destroyed by circumstances that he depicted more honourably than they had been in fact, the necessity in which he found himself of selling the Estouteville estate, leaving the court and Paris, and retiring to a little castle that he owned in the depths of Brittany, there to vegetate in oblivion.  As for Henri, his modest inheritance from his mother would serve to maintain him modestly in the army.  The Marquis had wanted to wait to consult him before taking such a dire course of action, from which there would be no going back once his creditors were enlightened as to the true state of his affairs.   Poor Henri, stunned by such an unforeseen confidence, restrained himself out of pity for such a good father, and took little account of his own disappointment.  The Marquis left him to meditate on his revelation for a whole night, but the next day he set before him a sure expedient in the form of his marriage to the Comtesse de Toreignstein, simultaneously producing the proofs of her legitimate birth.  With the prospect of such a dowry, Estouteville could be saved, arrangements could be made to settle the most flagrant debts, the Marquis could remain at court, living off the perquisites of his appointments,4 and Henri, rather than subsisting on the interest of his inheritance, could consume its capital without inconvenience.  The prince had always eagerly desired this marriage for his daughter, and it would also fulfill the obligations of friendship.  Nonetheless, he left it solely to Henri's own wishes.  With the circumstances put to him in this way, his choice could scarcely be in doubt.  All the same, it was not without a certain anxiety that the Marquis had his ward summoned to the convent's parlor, but Henri was quite young; he saw nothing in the rickety child that was introduced to him but a thin, pale, puny little girl of whom he took little notice and who would evidently grow up before such time as she was called to bear his name.  At twenty-three, three years are like three centuries!  He hardly gave his little fiancée another thought and gave himself over to the pleasures that Paris offered him.  His father, encouraging him in these, nonetheless indicated the limits drawn by polite society.  Henri's taste, tact, and natural good breeding aided him in not crossing them, but within those limits he did not deny himself any diversion.  He did not lack for money.  At first, he resolved not to exceed the income of his personal fortune, but soon opportunity and example led him to go well beyond it, and the Marquis never passed any remarks on his spending.  Having become the arbiter of fashion and the model of elegance, he divided his time between sojourns in Paris and his regiment, where he proved to be as methodical, steady, and correct as hardly any officer in the army.  However, like most Frenchmen, his tastes were more bellicose than military, strictly speaking, and he found garrison life mortally boring.  When he had been there for some time, his letters to the Abbé Blondel, with whom he kept up a continuous correspondence, became longer and more expansive.  They expressed the desire to  change his habits and return to a more serious life, but soon the enticements of Paris dissipated these flashes of wisdom, and without entirely renouncing these projects, he deferred them to the time of his marriage.
The Marquis d'Estouteville had watched the elder of the Comtesses Toreignstein  growing uglier by the day, and he feared the same fate for the younger.  He thought that after mature reflection Henri would get used to the appearance of the female creature destined to be always at his side, but hearing his son remark once with an air of sadness and rather marked repugnance that the little Toreignstein looked unmercifully ugly in the pink dress she had been rigged out in to be taken to the convent's parlour, the Marquis decided to change tack.  He entrusted the child to his sister, the abbess of a convent in Caen,5 and redoubled his efforts to toss his son into the whirl of society by way dissipation leading him to discard any notion of domestic happiness.  The Marquis's conversation tended to make out incessantly that this happiness, though perhaps very desirable, was never to be found quite as one had dreamed of it.  The practical application unfortunately never corresponded to the precept when one looked into people's home lives.
The Princesse Simon de Montford became a useful auxiliary to the Marquis.  Nothing is more fatal to a young man than a liaison with a profoundly immoral woman of wit, and the Princesse Simon, who possessed those two qualities in spades, was of a mind to indulge in a great passion for Henri.  It had already lasted for more than a year, and this long span of fidelity, astounding the observers, put the final touch on the Comte d'Estouteville's fashionability, for, I am sorry to say, the Princesse Simon held the first rank in society.  With a great name, an extreme elegance, a rare impudence, a family that helped her avoid scandal, and a husband who was more than indifferent to her conduct, she had from the beginning paraded such loftiness in her irregularities that society accepted them.  Whenever some abominable affair attributed to her was recounted, and no one disputed it, everyone said, "I would not put it past her," and there was no further doubt about it.  Hers was one of those characters that one meets with sometimes that cannot help but assert their shameful importance by exercising an extreme seductiveness — when they want to take the trouble.  Henri was under the spell, but he was beginning to discover Satan's claws beneath the intoxications with which she still sought to dissimulate them.  So it was that he had fallen into forgetfulness of all that was serious and good.  His spirit had been corrupted, yet his heart had not been spoiled, his refinement remained intact, and one could say that he was worth more than the life he was leading.
Notes:
It was the custom for the families of young aristocrats to purchase officer's commissions for them.  It was assumed that they would learn soldiering "on the job." Unless the family was very rich, the only other career open to young noblemen was the church.
The Abbé Blondel is the canon mentioned a few lines earlier.  Given his title, he is evidently an abbot as well as a canon.  Under the Old Regime, it was not unusual for well-connected clerics to hold multiple benefices.
A morganatic marriage was one in which a royal personage, usually the husband, married a commoner.  A morganatic wife was given a lower title than her husband's, and their children, though legitimate in the eyes of the church, were barred from succession to the rulership of their father's state.  In this case, the two girls are not princesses but merely countesses, and could never hope to marry into royalty on an equal basis.  The custom of morganatic marriage developed in Germany, which in the 18th century was a patchwork of small states, each with its own ruling family.  In most cases, only younger sons were allowed to get away with it.
Courtiers who held official appointments in the royal household could always find ways to make money out of their position.  For instance, ladies in waiting at Versailles were entitled to re-sell their royal mistresses' candles after they'd been lit once.
Caen is a town in Normandy.  The point is that the girl would be out of sight and out of mind.