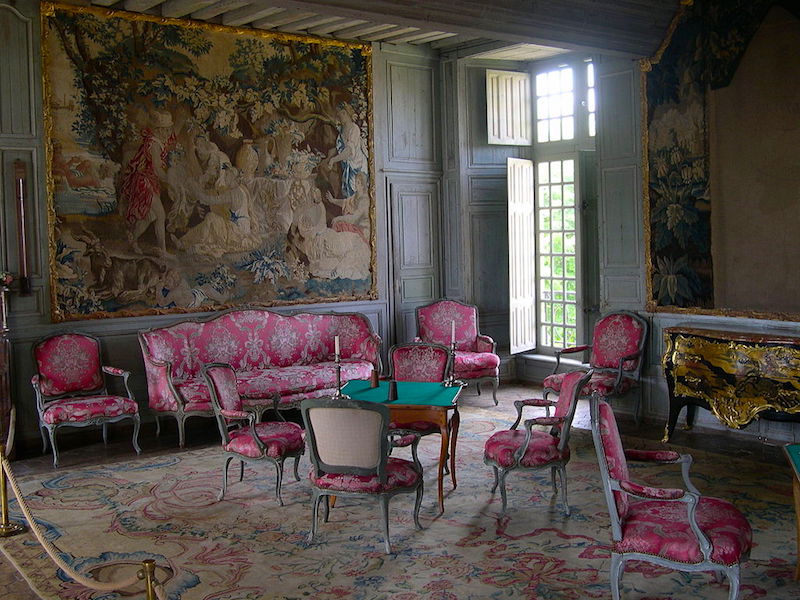 La Maréchale d'Aubemer, Nouvelle du XVIIIème Siècle, or The Widow of Field Marshal d'Aubemer: A Novella of the 18th Century, posthumously published in 1867, is a novel by the author and memoirist Madame de Boigne, born Adélaïde d'Osmond (1781-1866).   Mine is the first English translation, available here for the first time anywhere.
In Chapter 8, Mme d'Aubemer begins to suspect Henri d'Estouteville's intentions.  
THE WIDOW OF FIELD MARSHAL D'AUBEMER: A NOVELLA OF THE 18TH CENTURY
CHAPTER EIGHT
Unavowed Feelings
While returning to the salon, d'Estouteville approached Mme d'Aubemer and said to her in a low voice, "You were hardly generous to lend your support to the strongest in that way."
Mme d'Aubemer stopped walking for an instant and looked at him with a flash of curiosity by which he was disconcerted, but both of them were too experienced in the ways of the world to let their expressions betray their thoughts for too long.  Everyone was still grouped around the fireplace when the little Rieux erupted into the room.  They precipitated themselves at Mme de Saveuse clamouring for the bourrée1 that she had promised them.  Mme de Saveuse explained to them that she would play it for them as much as they wanted once the salon was free, which would have satisfied the children if their mother had not come to beg Comtesse Lionel to accede to their wishes on the spot.  Then all the little faces lengthened and tears began to flow; there was no going back, and Mme de Rieux herself opened the piano and her children's victim sat down to play a bourrée.
Prince Simon had a very keen taste for music and understood it well.  He approached the piano and remarked on the excellence of the execution: "This bourrée is so charming that I ask permission to join the children in soliciting another.  Even when a bird walks one feels that it has wings.2  If I'm not mistaken, Mme de Saveuse is a great musician."
"These are airs from our mountains," she replied, "and I love them.  They must seem monotonous to others."
"Not at all!" responded several voices.  Encouraged and stimulated by Prince Simon's evident pleasure, she set about improvising variations on one of these mountain melodies with as much talent as taste, and then suddenly stopped.
"Pardon," she said.  "I'm getting carried away.  I've never encountered such a good piano."
The Maréchale had also approached: "You did not say that you were a musician, my child."
"You never asked me, Aunt."
Lionel stepped forward, and, disposed that day to boast of she who was called Gudule de Saveuse, cried "But she sings, too!  Make her sing, ladies, make her sing Italian!"
Gudule, since we may as well use the name she acknowledged — Gudule, then, could not repress a rather noticeable gesture of impatience, and moved away from the piano.  However, stopped by those who surrounded her and led back to the piano by the Prince de Montford, she sat back down and sang a lament in hill country dialect with a contralto voice that was as pure as it was touching.  As with everything that strikes a jaded society as new, she roused them to transports.  The Duc de Montford himself, by nature a man of few words and who had in his silence fashioned for himself a reputation as an able man with the help of a few skillful waggings of his head that gave him a competent air, demanded a new song, then Prince Simon solicited another, and Mme de Saveuse herself, whom an old maestro di cappella3 retired in Limousin had turned into a great musician, became animated and took as much pleasure in her performance as did her audience.  Recounting the subjects of these naive little poems and explaining to the company the dialect words that were too far removed from French, she captivated their attention and won their approbation.  Lionel meanwhile felt tortured.   He had reverted to the full terror of seeming provincial, and after each couplet he repeated in a voice that became more and more strident, "Sing in Italian…Sing in Italian!" but his wife took no notice.  Finally, she said to him with a slight edge of impatience, "M de Saveuse, why do you wish me to bore everyone here with pieces they have heard done a thousand times better than I ever could when I have the good fortune to entertain them with the novelty of some poor little airs from my native soil?"
There, said the Maréchale to herself, is a condemned man whose reign is finished.  His influence must not pass to another; I shall see to it myself.  And she looked over to the side of the chimneypiece, against which d'Estouteville was leaning.  Almost alone among the company he had not drawn near the pretty musician and remained at an equal distance from both the piano and Princess Simon's sewing frame.  Yet the Maréchale was mistaken: Lionel's reign was not finished at all, for it had never begun, and Mme de Saveuse had never dreamed of condemning him.  His stupidity, to tell the truth, had been less blinding in his home province where he had a sort of superiority over all that surrounded him, but he had never exercised the least influence on her.  Her opinions, her words, and her actions had conserved a complete independence, though she herself believed that she was a submissive wife because she left him at complete liberty and raised no objection to fancies of his that she was indifferent to.  The trip to Paris, the only one that she had been called upon to take part in, had not vexed her much, and she had entered into it without reluctance.
Despite his wife's response, Lionel continued to request something in Italian, and those present joined in out of politeness.
"I, too," said Gudule, "would like to hear something sung in Italian.  I know of Princesse Simon's great talent; it's she who should let us hear something."
"Thank you," said the princess drily, "I think that's enough music for today."
"Oh, Princess, you're quite right," cried Mme de Saveuse, breaking out into laughter as youthful as it was frank.  Darting from the piano, she arrived with a bound at a tabouret placed in front of the Duchesse de Montford, and sat at her feet admiring her tapestry work.  "This is the kind of work you should do, Aunt, instead of those cross stitches that bore you so."
"You are not before time, my lady niece, I have brought some silks and some canvas, but you will have to direct me, for I hardly know where to begin."
Gudule set about this work and all the young men dispersed.  The weather had cleared up and the sun was shining when Lionel, followed at a distance by Henri and a few other visitors, came back into the salon: "We're going for a ride in the forest.  The Comte d'Estouteville will lend you his pretty mare Carina, which I've talked so much about.  Are you coming?"
"Gladly," replied Mme de Saveuse, but such was not the Maréchale's intention.
"I was counting on you, my child, to help me start my work.  If it would not vex you too much, I ask you to stay."
Gudule blushed while expressing her acquiescence to her aunt's wishes.  Was it regret at renouncing the ride?  Was it the instinct that to go could be thought improper?  I cannot say, but finally she blushed, and for the first time because of emotions complex enough that she could not neatly explain them to herself.
Mme d'Aubemer hesitated for a moment over the best course of action, but struck by the idea that the circumstances might repeat themselves, she said to her niece when they found themselves alone with Mme de Montford, "I beg your pardon, my dear, for having hindered your ride, but it is not the done thing for a young woman of good breeding to ride the horses of others, especially of those who are, as she is, guests in the house where she is staying.  There would be less objection to accepting a horse from the Duc de Montford, or even from M de Rieux, though in general a young woman should mount only her own horses, and if Lionel had (been less of a big blockhead, she would have liked to add to express the full thought that she did not voice), if Lionel had more experience of the world, he would not have proposed it to you."
Mme de Saveuse took Lionel's part with unaccustomed warmth.  It was an accepted thing in Limousin; he himself lent horses to ladies of the area; no more than she would he have found M d'Estouteville's proposition improper.  The fault, therefore, lay entirely with the latter.  The Maréchale had avoided pronouncing his name.  She was agreeably surprised to hear it brought up so frankly by Mme de Saveuse, and her anxieties were calmed to the point that she almost regretted having deprived her niece of a pleasure that would not have been so very improper it it were not repeated.  Lionel had returned to the stables railing against the selfishness of old ladies.  Henri, on the other hand, was not fooled.  He had already repented of the blunder he had made that morning and grasped that he had roused the attention, if not the suspicions, of Mme d'Aubemer.  Soothing the latter and deflecting the former seemed to him to be essential.  To that end, he had abstained from joining Gudule's admirers, although no one had been more moved by the touching tones of her voice, nor more bewitched by her naive recitals of rustic love.  There, however, he had overdone it a little in the Maréchale's eyes and she was all the more disposed to examine his demeanour closely.  The refusal of the horse proved it to Henri.  During the ride he succeeded very easily in manufacturing a quarrel with the Princesse de Montford, who was already rather ill-disposed, and, provoking her over the ridiculousness of her idolater Lionel de Saveuse, in so doing incited her, in her provocative mood, to redouble her coquettishness towards this husband whom she wanted to have under her thumb to torment his wife.  She did not quite know how she would make use of him, but he was a means not to be neglected.  If she succeeded at the same time in arousing the jealousy of Henri, whose cooling ardour she was beginning to be aware of, it would double the profit.  She did not dare to flatter herself too much about it, so absurd did it seem to her, but men have their meannesses, too; Lionel was very handsome, incontestably more handsome than d'Estouteville, and Princesse de Montford, looking at the two of them, admitted it to herself, thus explaining Henri's mood.  The evening was not agreeable.  Comte d'Estouteville seemed sad and did not make an effort for anyone.  Lionel, encouraged by his success, was insupportable.  Mme de Saveuse, monopolized by Mme de Rieux, was more than a little bored.  Whist, reversi, and tric-trac4 occupied the rest of the company.  Princesse de Montford alone was equally entertained by Henri's mood and Lionel's joy.
Grand projects for entertainment in the following days were being made.  The Duchesse forbade plays as being too worldly for the time of year, but tolerated proverbs,5 supposedly impromptu, though rehearsals had to be held in the morning.  M de Rieux, the great impresario, assigned the parts.  Henri d'Estouteville accepted everything that was proposed to him without making any difficulties.  The Maréchale noticed that he did not in any way seek parts that could have brought him closer to Mme de Saveuse and began to doubt her own perspicacity.  The next day dragged on painfully, and the weather was dreadful.  Mme d'Aubemer heard M d'Estouteville say to another young man who was returning to Paris, "You're quite lucky.  It's very boring here this year."  He seemed embarrassed to see her so near him.  She smiled while turning her eyes towards a sofa where Princesse Simon and M de Saveuse seemed absorbed in one another.  "Not everyone is bored," her expression seemed to say.  Henri dissimulated his suffering so poorly that she wondered, "Is it possible that he is seriously attached to such a woman and so humble as to be jealous of that ridiculous imbecile?"
Letters arrived that evening.  After reading his, Henri d'Estouteville announced his departure the next day.  His father was recalling him to Paris.
"But you are coming back to us, Henri?"
"I'm very much afraid not, Madame la Duchesse.  I have an engagement at Saint Assise next week."
"Now there's a rather improvised engagement," said Princesse Simon with an ironical smile.
"The engagement is of long standing, but the plan to accept it is recent," he added more quietly, approaching her.
Mme d'Aubemer did not hear these last words but she saw Princesse Simon look disconcerted and concluded that she was the only heroine of this little drama, seeing that during the rest of the evening she was sharp with Lionel two or three times.  D'Estouteville nonetheless departed early the next morning.
Lionel was greatly disappointed.  He was very flattered by the friendliness that Comte d'Estouteville (whom he still did not dare to call Henri to his face, nor just d'Estouteville, though he never referred to him otherwise in his circle), showed him on every occasion, and even more flattered to inspire in him such evident jealousy and to obtain the favours of a woman to whom the Comte was known to be attached. To have d'Estouteville as a friend and to snatch his mistress away from him seemed to Lionel to be the sublime acme of fine courtly roguery, the annals of which he read about in the wicked novels of the time.  Such a brilliant affair would efface forever the mark of the provincial.  Henri's absence diminished the effect, but he was no less disposed to see it through to the end, and did not abate his eager attentions to the Princesse, who continued to welcome them quite benevolently.  Perhaps Mme de Saveuse would not have noticed them if Mme de Rieux, after having taken evident pains to conceal them from her, yet not having succeeded in bringing them to her attention, finished by expressing her pity for her, as well as her profound indignation against her sister-in-law: "It's a horror!  She should be horse-whipped!  The husband of a young woman!  In her presence!  Making trouble in a happy household!  And what's more, distressing that poor Henri!  For, believe me, my dear, I know her well, and as I said, he left in despair, solely to flee this spectacle."
Mme de Saveuse was very glad to be able to explain to herself the feeling of isolation and suffering that she had been feeling since the beginning of her stay in the country by the poignant pain that Mme de Rieux's revelations caused her.  Lionel's tender attentions to the Princesse should naturally have afflicted her since they shocked the others just as much, and once she was alone in her room, tears came to her rescue by exhaling the sorrow in her heart.
She had until then been unaware of Henri's relationship with the Princesse, for it was so well established that no one spoke of it.  She was a little astonished, which made her think a great deal about it.  It seemed to her that there was little correspondence between their tastes, their ways of seeing the world, their ways of expressing themselves, and above all their ways of feeling.  She allowed herself to be so preoccupied with these thoughts that she almost forgot her own sorrow.  Yet her tears still flowed abundantly and her bitter aversion to the Princesse Simon did not soften.  She had more of a grudge against her than against Lionel.  This was perhaps not quite fair, but it was so.
The necessity of reappearing in the drawing room forced her to take hold of herself in order to hide her inner turmoil.  She remembered her mother's precepts about the duty imposed on wives to dissemble their husbands' failings, and regretted having listened to Mme de Rieux's confidences, but she had been so shocked that she had not thought of interrupting her.  In any case, the latter had begun by saying, "You were no more duped than I, I think, by the reason that Henri d'Estouteville gave for his departure."  This beginning had excited her curiosity, and was the means to foresee that its continuance could have no personal interest for her.  Mme de Saveuse did herself the justice of realizing that this was impossible.  She hastily put her appearance to rights, continually bathing her eyes in cold water to little effect.  Dinner was announced when she came downstairs with a crestfallen face.  She was too little accustomed to hiding her feelings to succeed in doing so on her first attempt.  Mme de Rieux would have been delighted to bathe the wounds that she had inflicted, but since Gudule enclosed herself in the silence that she had imposed on herself, the Marquise, losing a good opportunity to deliver diatribes against her sister-in-law, was wounded and grew entirely cold towards Mme de Saveuse.  This fortnight was becoming more and more wearisome.  D'Estouteville had been its soul and had taken its impulse away with him.
Mme de Saveuse's sadness astonished no one because the grounds for it had been obvious.  Nevertheless, one morning that she seemed more than usually subdued, Lionel, with the incomparable aplomb of a blockhead, dared to ask her what the matter was.  Gudule was more perplexed than he as to what answer to give, for at bottom, she felt distressed and abandoned, and did not quite know why.  Lionel's solicitude had never been lavished on her or indispensable to her.  She replied with a gentle smile, "My dear, I pine for the hawthorns of our mountains. Those magnificent gardens that extend there in their regular lines beneath my windows only increase my desire to see our rustic paths again.  The time for our return has been much postponed.  Will your business not finish soon?  Take me back to my mother, I beg you.  I will regain my health at Saveuse."
And Gudule broke down in tears.  Lionel was not a mean-spirited man.  Touched by his wife's sorrow, he promised an early return to Limousin and even fixed a date for it.  Mme de Saveuse was astonished not to feel a keener joy, but attributed it to her regret at leaving her aunt.  She nonetheless recovered sufficient satisfaction in writing the good news to her mother that her face was restored to serenity to a degree that struck the Maréchale.  Learning that this change had to be attributed to the hope of leaving for Saveuse, Mme d'Aubemer fell back on the thought that her charming niece had a great passion for a foolish husband too stupid to be able to appreciate her.  She had seen so many oddnesses of this type that, without understanding it, she resigned herself to believing it.  Lionel was not long in insinuating that after having taken Mme de Saveuse back to Limousin, he would be forced to return to Paris, where very pressing business called him.  Gudule did not seem much distressed by this warning, but the Maréchale, to the contrary, saw in it the assured loss of her niece's happiness since it was attached to her husband's conduct, and was disposed to put obstacles in the way of this plan to separate.  Consequently, she alerted Caroline to what had passed, enjoining her in no way to encourage Gudule to leave Paris if her husband's business could serve as a pretext for his return and to deliver him without any restraint to the follies that it might amuse Princesse Simon to involve him in.  The latter, for her part, finding her innocent rival sufficiently punished by removal from the capital, softened towards her and did not see without some pleasure the effect of her own charms in the dominion that she exercised over Lionel.  Without speaking of his plans to return, she sent word to Henri of the impending departure of the Saveuses  — which he promised himself to hinder.
This fortnight meant meant to be so diverting ended woefully.  Each saw it come to term with a satisfaction that politeness could barely disguise.  Mme de Saveuse, in particular, joyfully left behind a place in which she had for the first time felt the touch of malevolence and the pain of constraint, but her mind had lost its elasticity and the weariness that was overpowering her followed her to Paris.  By dint of repeating to herself that she was much afflicted by Lionel's attachment to the Princesse de Montford, she succeeded in persuading herself of it.  Probing the depths of her heart, would she have found another source of her melancholy?  That is what she did not seek to discover, and she remained very sincerely ignorant of it.
Notes:
bourrée: In French Baroque music, a rhythmic double-time dance of rustic origin with skipping steps, later adapted to classical ballet as the pas de bourrée.
Even when a bird walks one feels that it has wings: I have not as yet been able to identify the source of this quotation or saying.
maestro di cappella: From the Italian 'master of the chapel," i.e. a leading musician in charge of an orchestra, usually in some great household.  Many were also composers.
English in origin, whist was a popular card game in 18th and 19th century France.  Reversi was a board game.  Tric-trac was a game similar to backgammon.
proverbs: A type of amateur theatrical in which the players enacted scenes intended to elicit proverbs from the audience.