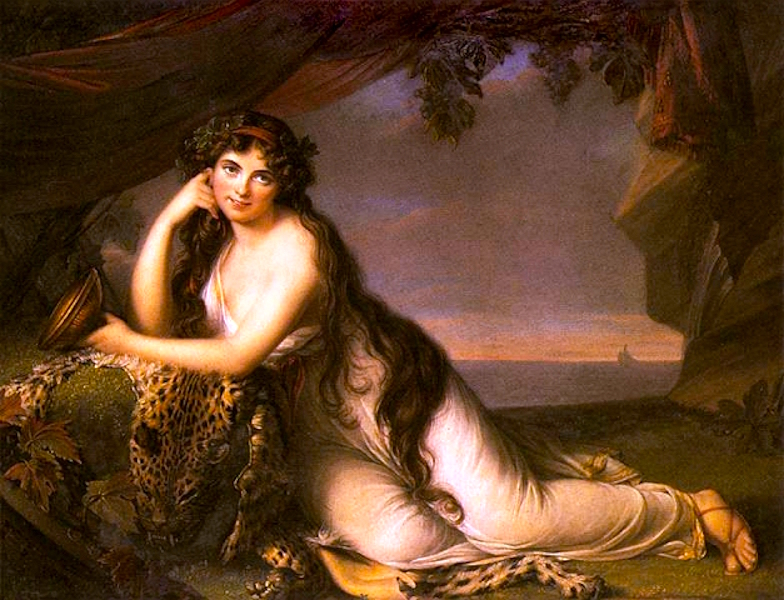 Part 5.3 is the third of four parts of Chapter 5.
A Childhood at Versailles consists of the first 5 chapters of the memoirs of Mme de Boigne (1781-1866), née Adèle d'Osmond, who was a French salon hostess and writer.  She was born in the Château de Versailles and lived at the court of Louis XVI and Marie-Antoinette until her family fled to England during the Revolution.  Later in her long life, she married a rich soldier of fortune 30 years her senior, hosted a brilliant salon in Paris, and became an intimate of the last French queen, Marie-Amélie, consort of King Louis Philippe (r. 1830-1848).  Childless herself, Mme de Boigne addressed her memoirs to her grandnephew.  The memoirs were not published until 1907, under the title Récits d'une tante, or An Aunt's Tales.  They've never been published in English, as far as I know, so I've decided to translate the first 5 chapters, the ones that take place mainly at Versailles, and post them here on this blog for interested readers to enjoy for free.
The chapters are quite lengthy, so I've broken each one into several parts. In Part 5.3, the author recounts the extraordinary early career of the celebrated Emma, Lady Hamilton, who in the 1790s was in high favour at the Court of Naples. Young Adèle sometimes assisted Lady Hamilton in her famous 'attitudes,'an experience she vividly describes here.
A Childhood at Versailles, Chapter 5, Part 3 (Part 5.3)
The Queen tried to keep my mother in Naples.  She even offered her a little house, but we still had faith in our own resources then.  The Queen, in any case, had a reputation for capriciousness, and Lady Hamlton's period of favour was beginning.  This Lady Hamilton had such notoriety that I believe I must speak of her.  
M Greville, coming into his kitchen one day, saw at the corner of the chimney a young woman with only one foot shod, for she was darning the thick black stocking that was to cover the other one.  Lifting her eyes, she revealed a celestial beauty.   He discovered that she was the sister of his groom.  He had no great difficulty getting her to climb the staircase and establishing her in his drawing room.  He lived with her for some time, and taught her to read and write a little.  
The affairs of this very disorderly young man having been set alight, he found himself obliged to leave London suddenly.  At that time, his uncle, Sir William Hamilton, the English minister to Naples, happened to be on leave.  The young man told him that his greatest grief was the necessity of abandoning a most beautiful young creature that he had in his house, who would find herself on the street.  Sir William promised him to take care of her.  
In fact, he went to fetch her at the very moment that the bailiffs were expelling her from Mr. Greville's, and soon he was head over heels in love with her.  He took her to Italy.  I do not know what role she played in his life, but he ended up marrying her after a few years.  
This creature of angelic beauty who had never learned to read and write fluently nonetheless had an instinct for the arts.  She promptly benefited from the advantages that a stay in Italy and Sir William's tastes procured for her.  She became a good musician, and above all, created a unique talent for herself, of which the description seems silly, but which enchanted all who saw it and aroused the passionate interest of artists.  I wish to speak of what were called Lady Hamilton's attitudes.  
In order to suit her husband's taste, she was habitually dressed in a white tunic belted around the waist; her hair flowed freely or was put up with a comb, but without having the form of any coiffure.  When she consented to give a performance, she armed herself with two or three cashmere shawls, an urn, a perfuming pan, a lyre, and a tambourine with jingles.  With this slight baggage and in her classical costume, she would instal herself in the centre of a drawing room.  She would throw over her head a shawl, which, hanging down to the ground, covered her entirely; thus hidden, she would drape the others over herself.  Then she would lift it suddenly, or sometimes take it off altogether, or at other times take it half off to act as drapery on the model that she was representing.  However, she always presented a most admirably composed statue.  
I heard from some artists that if one could have imitated her, art would not have found anything to change in the performance.  She often varied her attitude and and the expression of her physiognomy, "passing from grave to gentle, and from pleasant to severe," before letting drop the shawl, of which the fall represented a kind of interlude between acts.
I sometimes served as an accessory to make up a group.  She would place me in a suitable position and drape me with a shawl before raising the shawl that, covering us, served as a curtain.  My blonde hair contrasted with her magnificent black hair, which she turned to great account.  
One day, she had placed me on my knees before an urn, my hands joined as if in prayer.  Leaning over me, she seemed plunged into grief and we were both of us disheveled.  All of a sudden, getting up and moving away a little, she seized me by the hair with a movement so brusque that I turned around in surprise and even a little fear, which made me enter into the spirit of my role, for she was brandishing a dagger.  The passionate applause of the artistic spectators made itself heard with cries of "Medea! Bravo!"  Then, pulling me to her and clasping me to her breast with an air of braving celestial anger, she elicited cries of "Long live Niobe!" from the same voices.  
This was how she took inspiration from antique statues and how, without slavishly coping them, she evoked them in the poetic imaginations of the Italians by a kind of improvisatory action.  Others have tried to imitate Lady Hamilton's talent, but I do not believe they have succeeded.  It is one of those things where there is but one step from the sublime to the ridiculous.  In any case, to equal her success, one would have to begin by being perfectly beautiful from head to toe, and such specimens are rare.  
Apart from this artistic instinct, nothing was more vulgar and common than Lady Hamilton.  When she took off her antique tunic and resumed her ordinary dress, she lost any distinction.  Her conversation was devoid of interest, even of intelligence.  Nevertheless, she would have needed a sort of finesse to add to the seduction of her incomparable beauty, for she exercised a complete domination over those people she wished to govern — her old husband, first of all, whom she covered with ridicule; the Queen of Naples, whom she despoiled and dishonoured; and Lord Nelson, whose glory was soiled under the imperious rule of this woman, who became monstrously fat and lost her beauty.  
Despite all that managed to get from him, from the Queen of Naples and from Sir William Hamilton, she ended up dying in distress and humiliation as well as disorderliness.  On the whole, she was a bad woman and base soul in a superb corporeal envelope.  
It had pained the Queen of Naples a great deal to consent to receive her.  My mother had been employed by Sir William Hamilton to obtain this favour.  However, Lady Hamilton lost no time in securing the Queen's fancy.  There is no doubt that the cruel reprisals perpetrated at Naples in the name of the Queen and of Lord Nelson were provoked, one could even say commanded, by Lady Hamilton.  She persuaded each that the other had demanded them.  My mother was all the more distressed by it because she was very attached to Queen Maria Carolina, with whom she remained in very regular correspondence, and to whom, as a result of which, she had great obligations.27 
Notes:
27.  See the letters of the Queen of Naples and the Marquise d'Osmond in the Pièces Justificatives.
This concludes Part 5.3. Part 5.4 will be the conclusion of not only Chapter 5, but of A Childhood at Versailles.