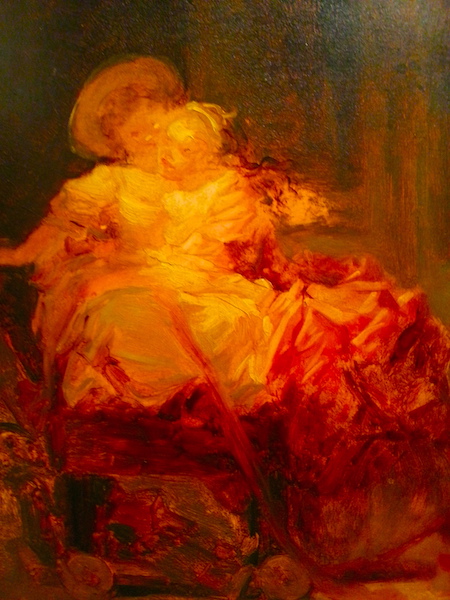 La Maréchale d'Aubemer, Nouvelle du XVIIIème Siècle, or The Widow of Field Marshal d'Aubemer: A Novella of the 18th Century, posthumously published in 1867, is a novel by the author and memoirist Madame de Boigne, born Adélaïde d'Osmond (1781-1866).   Mine is the first English translation, available here for the first time anywhere.
In Chapter 2, we go back in time to learn how the Maréchale d'Aubemer and her sister became estranged.  
La Maréchale d'Aubemer
Chapter 2
A Retrospective Chapter
It's no doubt tedious to go backwards, but the writer and the reader must have the fortitude to bear a few retrospective pages in order to explain and understand Mme d'Aubemer's past, which is already rather a long one for the heroine of a novel.  For we do not wish to take anyone by surprise, and we admit, at the risk of the reader throwing these pages aside with disdain, that the Maréchale is indeed the object of our attentions.
Her father, the Baron d'Élancourt, a widower retired from military service, lived on his lands far away from the capital.  He believed he had committed an act of high wisdom in appointing a man of business, whose integrity he never doubted, as guardian of his two daughters.  Charging Monsieur Duparc with the administration of their fortune and the settling of their futures, he stipulated that they should remain at their convent1 until the day of their marriage.   The Mesdemoiselles2 d'Élancourt had been orphaned for five years and the elder had reached the nineteenth year of her age when M Duparc presented a Monsieur Dermonville to her as a suitor.  The boredom of life in the convent brooked no hesitation, and she accepted her guardian's offer with satisfaction.  A few weeks later she married M Dermonville, to the great dissatisfaction of her family, who had not been consulted.  The public in general decried this marriage.  It was thought that Mlle d'Élancourt, a young woman of quality, allied to the greatest houses of France, having thirty thousand livres in income, and being quite a remarkable beauty, should not have married a 45-year-old man whose only distinction was a large fortune.  One could have added good sense and a happy disposition, but these are the sort of advantages that count for little in the world, and the rumour spread that M Duparc had sold the charming young Émilie d'Élancourt to the highest bidder.  M Dermonville enveloped his wife in great luxury, setting up her household on a very elegant footing, and she became an arbiter of fashion, the kind of importance which is absorbing at the beginning of life and leaves no time for regrets to take shape. Émilie therefore seemed quite satisfied in the bonds of a union so disproportionate in age and birth.
Her sister Caroline, remaining at the convent as per the express wishes of the Baron d'Élancourt, nonetheless passed the greater part of her days in the home of Mme Dermonville.  She was noticed there by the Comte Gustave de Saveuse, whose feelings she soon came to share.  Émilie felt herself to be the sponsor of this understanding and took it upon herself to speak to M Duparc about it.  After some light advocacy, he accorded his benevolent consent, on the condition that the the marriage should take place without delay.  He wished, he said, to avoid any disagreeable commentary from Mesdemoiselles d'Élancourt's relations.  The young people asked for nothing better, and the Marquis3 de Saveuse scarcely had time to get back home to his chateau in the Limousin, the family seat, in order to attend his son's wedding.
On leaving after the ceremony, M Duparc said with a bitter expression, "I hope that at least I will not be accused of having sacrificed and sold this one.  M de Saveuse is a handsome young man, the newlyweds will be able to entertain each other with tales of their ancestors' deeds at the Crusades,4 and, praise be to God, the husband hasn't got a farthing!"
Two years of happiness went by like a dream.  The young couple divided their time between the Chateau de Saveuse, Magnanville, the Dermonville chateau, and Paris, where they had their own establishment.  The birth of a child had just completed their happiness, and Mme Dermonville, to whom this joy had not been accorded, was feeling quite maternal towards the son of her dear sister, when their guardian, so sensitive to society's chatter, disappeared, taking the greater part of his wards' fortune with him.  He had engaged in so many speculations with the rest, and squandered so much of it, that it was reduced to almost nothing.  With a swindler's cunning, he had so skillfully chosen the husbands of Mesdemoiselles d'Élancourt that they had been distracted from enquiring too closely into their affairs.  Some suspicions, belatedly occurring to M Dermonville, had prompted a question which hastened the catastrophe.
The two sisters' private happiness did not suffer.  M Dermonville was too rich and the elder Saveuses too generous.  The younger Saveuses only had to give up their establishment in Paris.  The Marquis wrote that he would be hard pressed to be sorry about this event if he could have his children with him at Saveuse for a longer time.  For her part, Mme Dermonville hastened to arrange an apartment in her house for the Comte and Comtesse Gustave, and expressed her joy at an even greater intimacy.  M Dermonville was complaisant, as he was to all his wife's desires, and the Saveuses moved in, to the two sisters' mutual satisfaction.  The two husbands got along less well.  They had no tastes or social connections in common.  M Dermonville was a little worried to see M and Mme de Saveuse frequently summoned to court, for he feared that Mme Dermonville would be put out not to go there herself.  This darkened his mood, and, under the pretext of the difference in age, he affected a sort of superiority towards his brother-in-law, which the latter, prickly by nature and prone to stand on his noble status, was even more disposed to take offence by, since he felt obligated to M Dermonville.  The latter's house became insupportable to him; he rarely dined there, scarcely ever spent an evening, and never took advantage of the boxes or the carriages.  M Dermonville made some rather sardonic jokes about the way his brother-in-law was inconveniencing himself.  Caroline developed a dire anxiety about it, not daring to ask Gustave about the change in his habits, when finally, during a frank discussion between the two spouses, he admitted to his repugnance at remaining under M Dermonville's roof.  He had tried in vain to fight it, and could no longer keep quiet about it to Caroline.
Spring led naturally to the departure for Limousin.5  Madame Dermonville watched the moment for it approaching with deep foreboding.  She made a thousand plans for the following winter, above all that little Gustave, a delicate child, should be brought back before the cold set in, and she covered him with kisses.  Caroline listened with a melancholy smile and her eyes full of tears.  She could not enter into these plans for a reunion which she knew to be an illusion.  Émilie had noticed Gustave de Saveuse's frequent absences, and she feared that her sister was less than happy in her marriage. This sadness confirmed it, and redoubled her tenderness towards her.
The correspondence between them proved very active at the approach of autumn.  Émilie solicited their return, celebrations for it were being prepared at Magnanville, and every day's delay afflicted her.  For her part, Caroline was distressed to receive these tender effusions, and her replies betrayed the discomfort she felt.  The sufferings brought on by the beginning of a new pregnancy served as a pretext to avoid the sojourn at Magnanville, then fear of fatigue not to make the journey to Paris.  Much alarmed by a state of health that required such great precautions, Mme Dermonville hurried to Limousin once spring came, where she found her sister in perfect health.  She went home with the promise that Comte and Comtesse Gustave,6 their child already born, and the one yet to be born, would join her at Magnanville in the autumn before they all settled back into Paris together.  The birth of a second boy towards the  middle of July seemed auspicious for the reunion.  However, Caroline arrived by herself.  They hadn't dared to travel with the children; their father was staying behind with them.  Mme de Saveuse had taken advantage of an errand that an uncle of her husband was running in Paris to come kiss her sister; she would go back with him.  Mme Dermonville still believed, this time, in the force of some necessity behind these proceedings, and she could not doubt Caroline's tenderness, but when the pretexts were renewed for two further years in a row, Mme Dermonville finally had to wonder at them.  The correspondence between the two sisters, always very tender, became less active: each of them had acquired new interests and new relationships in which they no longer had a commonality of interest and feeling.
An important matter having called Gustave de Saveuse to Paris, he did not stay in M Dermonville's house, and, limiting himself to making one formal call, found a bed at the home of one of his relations in Versailles.  M Dermonville evinced a resentment that was finally shared by his wife. She wrote to Caroline to complain about Gustave's behaviour.  The latter, unable to allow the finding of any fault with him, replied very coldly, and from then on the split was established in earnest.  They still wrote, but only on occasions.
Mme Dermonville was in despair over this rupture.  All her most tender feelings had been fixed on Caroline; she had put off for as long as possible the recognition of what, quite naturally, she called her ingratitude, and at first felt a lively indignation over it.  Then she resigned herself to seeing her sister find happiness in other, closer relations, but she closed her heart to her and promised herself never again to let her sister break her heart.  The death of little Gustave, the only one of the children she knew, completed the estrangement.  Mme de Saveuse lost four boys in succession.  The last-born child alone, a daughter, survived, and gathered to herself the passionate affection of the inhabitants of the Chateau de Saveuse.
Madame Dermonville had reached the age of 35 when the death of her husband left her the mistress of her own destiny and of an immense fortune that he had left to her in its entirety.  As soon as propriety permitted, she married the Duc d'Aubemer.  This union, founded on reciprocal affection, confidence and esteem, would have been perfectly happy if the lack of children had not brought with it a grey shadow of yearning.  The marriage had lasted ten years when a bout of pneumonia, caught while he was commanding manoeuvres, carried off the Duc d'Aubemer, who had been promoted field marshal.  For a long time, the Maréchale was sunk in grief, yet she did not seek consolation from her sister and attached herself to the young Chevalier d'Aubemer of whom we have already heard mention.  Time having assuaged her pain, she took up again the brilliant place in high society that she was occupying with such profound boredom.
We must try the reader's patience still a little further and take him back to Limousin.  Thanks to his name, a brother of the old Marquis de Saveuse had married the richest heiress in the province, much less noble than he.  Their son followed the same example, and these two misalliances conferred the advantages of a fortune on the cadet branch, which harboured no less deference towards the head of the house for all that and showed the greatest respect towards the Marquis de Saveuse.  The deaths of Caroline's four boys having left a little six-year-old girl the sole heiress of the Chateau de Saveuse, the Baron7 de Saveuse quasi-officially asked her hand for his son Lionel, aged ten.  This match became the whole family's dream.  The Marquis saw in it the certainty that his turrets and towers would be inhabited, maintained, and even rebuilt, because the paucity of his income did not allow him to keep up the antique lustre of his ancestors, and the immense feudal Chateau de Saveuse was falling into ruin in many of its parts.  Gustave's touchiness had not at all diminished in rural solitude, and it made him wish for this marriage all the more, for he understood the importance that the baron attached to seeing his son become the owner of the family's ancestral seat and to fortifying his name with the still pure blood of the senior branch; no one would value more highly the advantages brought by Mlle de Saveuse.  Comte Gustave's pride was flattered, and it was with this feeling that he expired in his wife's arms, enjoining her to bring up their daughter to achieve this union as soon as she reached her eighteenth birthday.
Caroline's sweet virtues having won her the Marquis's most tender affection, she rendered him entirely filial attentions.  The pain of Gustave's death was shared by both, and his widow remained the chatelaine of Saveuse.  Many a time she had wanted to explain her conduct to her sister, but scruples of various kinds had always her back.  During the lifetime of M Dermonville, she had feared to set Émilie against a husband for whom she had expressed nothing but esteem, for in her favourable bias for Gustave, she found in M Dermonville all the faults of which the former had accused him in his prickliness.  The great fortune of which Mme Dermonville found herself mistress in her first widowhood did not permit the Saveuses to hasten forward to remind her of the existence of relations who were so impecunious.  The first advances had to come from her side, or so, at least, they decided in their discretion.  Emilie's marriage with the Duc d'Aubemer presented a new obstacle in Gustave's eyes: such a grand landowner for a brother-in-law clouded his needy and prickly self-love, and he did not permit his wife to make any attempt at reconciliation. Caroline, having become a widow, would have been tempted to try, if in the course of offering explanations she would not have had to acknowledge some of Gustave's weaknesses.  Perhaps she did not conceal them from herself, but her pious affection for him would have suffered to admit them.  The Marquis, for his part, fearing that a reconciliation with the Maréchale would take his daughter-in-law away from him too often, carefully kept her from it, and with her child's future fixed at the Chateau de Saveuse by the Marquis's will and the orders of Comte Gustave, she herself got in the habit of not looking beyond it.  This is how the breach between the two sisters widened, maintaining itself through silence and time, and they had come barely to bother about one another when, thinking of getting the Chévalier d'Aubemer married, the idea of marrying him to her niece came to the Maréchale.  The idea of installing this household of young people near her beckoned smilingly; it was a way of joining the late Maréchal's family and hers, and uniting their interests.  Madame d'Aubemer threw herself into this project.  The pampered child of Fortune, accustomed to seeing all her desires gratified, she looked on it as a sure thing as soon as she had decided on it.  However, still irritated with her sister, it was to the Marquis de Saveuse that the Maréchale wrote and asked for the hand of his granddaughter for the Chevalier d'Aubemer.  He was just finishing his service in Malta, and was to leave the Order7 as soon as he had finished commanding one last voyage of his galley.  The dukedom was assured him on his return.  The Marquis refused in Mlle de Saveuse's name.  She was engaged by a mutual attachment to her cousin Lionel de Saveuse.  The Maréchale's violent resentment at this refusal was soon eclipsed by her piercing grief at the death of the Chévalier d'Aubemer, killed while valiantly fighting Barbary8 pirates.
Since that time, her life had crumbled into trivial affections, trivial affairs, trivial worries, and the trivial troubles of the artificial world of high society.  Occupying herself fretfully with things that she hardly cared about and to which she attached no value whatever when they succeeded, but at which she did not want to fail, in the end she suffered from an inactivity of the heart, that solitude that allows neither goals nor compensations for life's activities.  Nevertheless, considered by all to be a perfectly happy woman, it would have been ungracious of her to complain; her best friends would have mocked her.
Such was not Caroline's fate.  Great griefs had touched her, but every period of her life had been marked by devotion to others.  She was conscious of her usefulness in the place that God had fixed for her.  Her passionate affection for her husband had given her the courage to bear the loss of her four boys and to advocate a resignation that she plumbed to the depths in the hope of inspiring it in him, and when Gustave, less courageous than she, succumbed, leaving her the care of his father's old age and his daughter's childhood, ordering her to have a care for their happiness as she had had for his, she understood that her task was not yet complete and could still be sweet and beautiful.
The old Marquis adored his granddaughter.  He took joy in all the charms of this young wild rose, and with all the more pride in that she united with her feminine grace the advantage that a boy would have had in continuing the Saveuse name.  Since the marriage with her cousin had been proposed and accepted, it had not been spoken of further; it was a fact completely accepted by the two families.
Lionel de Saveuse, an only son and much spoiled by a mother as common as she was limited in her views, had become a tall, handsome lad with a quite ordinary mind, very headstrong, hardly ever giving in except under the influence of his little cousin, sufficiently flattered by the exercise of it that she believed she had a true attachment to him.  These children knew the ties that must unite them, for a mystery was in no way ever made of them.  Arrived at the age of twenty, Lionel announced his desire to marry his cousin on the spot.  She was barely fifteen.  Caroline's maternal affection was opposed; her daughter was still frail and delicate, and the memories of previous misfortunes alarmed her.  She shared them with the old Marquis, and it was decided to wait for the eighteenth birthday of the young heiress of Saveuse.  Lionel was in despair and his mother sulked.  The baron, more reasonable, sent his son away.  Mlle de Saveuse wept when she said goodbye to him, then she hardly thought of him, then she didn't think of him at all, and took up her usual occupations with her habitual serenity.
Lionel's absence had lasted for two years when the Maréchale's request for her hand came to Saveuse.  The Marquis knit his eyebrows as he read it, and said to himself, refolding the letter and resolutely putting it down on the table, "My granddaughter is married."  His honour nevertheless did not permit him to decide the charming child's fate without consulting her, nor to refuse such an advantageous proposal without her acquiescence; in addition, he as well as Caroline had noticed how Lionel's letters were becoming rarer and shorter.  They both worried about it.  No formal engagement existed, and both sides could renounce the marriage without forfeiting their honour, even if it such a course was irregular, by falling back on a phrase uttered at the start: "if the young people suit each other."
Mlle de Saveuse and her mother where thus summoned to be informed of the Maréchale's letter, and the Marquis called upon his granddaughter to speak.
"You have not yet replied, Grandpapa?"
"No, my child, I'm waiting to hear your wishes and those of your mother."
Mme de Saveuse remained silent.  Mlle de Saveuse looked at her, thinking she would be the first to speak, then continued in a perfectly calm tone: "But Grandpapa, there shouldn't be the least difficulty.  Write to my aunt that I shall stay at Saveuse and that I'm going to marry Lionel."
The Marquis clasped her to his breast.  Nonetheless, he felt obliged to enumerate to her the advantages that she was rejecting, the title of duke that was assured to the Chevalier d'Aubemer, the immense fortune that she would enjoy, the brilliant position that would be waiting for her at court and with the Maréchale…
Mlle de Saveuse answered: "The nicest position is here at Saveuse with Mama and you, Grandpapa."
And so, putting her arms around his neck, she kissed the old man, who took her on his knees while covering her with tender blessings.  Mme de Saveuse continued to preserve her silence.  In her heart of hearts, she thought Lionel was not worthy of the treasure that she was raising for him with such solicitude, but would this treasure be better appreciated by another, and would it have a greater chance of happiness if taken from under the maternal wing?  She dared not answer these questions, and however disinterested her affection, she preferred to see them answered by her daughter.
Mlle de Saveuse, having authorized and begged the Marquis to reply that she was unable to accept the honour of the alliance proposed by her aunt, left this family meeting perfectly free and easy in her heart and mind.  Not so Mme de Saveuse!  She had noticed how little Lionel counted for in the young girl's decision.  He came well after Mama, Grandpapa, and even staying at Saveuse.  Would such a calm feeling suffice to fill a life destined to solitude,9 and would it compensate for the sacrifice that she might regret one day?  Who knows if in the end Caroline's maternal vanity, unbeknownst to herself, did not suffer a little at seeing the graces that she thought worthy of a more brilliant stage confined to the depths of a provincial chateau.  However that may be, Mme d'Aubemer's offer left her troubled; her daughter and the Marquis, once the reply had been sent off, thought no more about it.
The passing years brought to term Lionel's exile.  He had spent the last year in Rome.  His handsome figure and dashing air imported from the barracks, his previous residence, had won him easy success with the Italian ladies, which he made the most of.  Consequently, he was in no hurry to take advantage of his recall, and a few sighs escaped him for beautiful Ausonia,10 and for the sirens she harboured in the form of a terza donna11of the comic opera, in a few ill-tempered verses.  They sufficed to calm his pains.  He still complained to his companions in pleasure about the tyranny that was pulling him from the pomp of Rome and the charms of Signora Nicolina to bury him in the mountains and chain him to a rustic cousin, but he departed quite consoled and very pleased with himself, as was his custom.  This contentment was carried to excess by the Baron's evident satisfaction at finding him become such a handsome man, as he put it, and his mother's sincerely passionate admiration for his person and his manners.  He was put on display in the neighbouring chateaux for several days, and he himself went promenading in Uzerche, where he took up again with a redoubled importance his supremacy over the young men of his circle.  These uncontested successes reconciled him to the province.
He was in a rather good mood when his parents accompanied him to the Chateau de Saveuse.  He remembered that his cousin was quite pretty, and in fact she seemed sufficiently so that he decided to overwhelm her with a full deployment of his attainments; however, he was slightly astonished to find himself exactly in the same position of the Lionel of three years earlier.  Mlle de Saveuse treated him with friendly cordiality, unruffled by any new addition of admiration.  She questioned him about Rome and Italy.  When his replies were satisfactory and rational, she listened with interest, reserving for his charming flights of fancy a candid inattention.  Too limited to appreciate the distinction of this noble simplicity, he inwardly accused his cousin of ignorance and rusticity, and, despite the charms of her appearance, he was very little charmed.
The intendant of the province, long an associate of the Baron de Saveuse, wanted to give a ball to celebrate Lionel's return.  The residents of the old chateau had to attend, and Mlle de Saveuse was much admired.  All the young men of Limoges testified to Lionel the envy he aroused in them and congratulated him on his good fortune.  These tributes embellished his cousin in his eyes, and in good faith he believed himself to be in love when two months later he conducted her to the altar where she equably vowed to devote her life to him.  She had never thought it could be otherwise, and her destiny was fulfilled without having caused her the least worry.  The few days given over to the festivities having passed, the Comtesse Lionel returned with delight to her life of sweet affection and studious occupations.  This peaceful existence did satisfy Lionel for long. On the pretext of fulfilling his duties to his parents, he spent a large part of his time at his mother's house at Grosmenil, in Uzerche, and in Limoges, where he was welcomed as a charming horsemen by the pretty ladies of the area, and where his horses, which he sometimes lent, and the expansive hunting grounds at his disposal at Grosmenil as well as at Saveuse, assured him equal success with the men.  This social pre-eminence, to which mere good company had not accustomed him, made his provincial sojourn very agreeable, even though he loudly professed his displeasure with it.  He admitted to no one the boredom that had taken hold of him during the ten days he had spent in Paris before his marriage.  He attributed it, in truth, to the formal calls imposed on him by his father.  It was then that the Baron presented him at Mme d'Aubemer's.  We have already seen what success he had with her.
Eighteen months had passed since the marriage, and nothing had changed at the Chateau de Saveuse, but then the Baron died, leaving to his son a pretty fortune and quite a large sum of ready money that he was on fire to spend freely in Paris.  On the pretext of business to do with settling the estate, he obtained his mother's permission to go.  She took it upon herself to explain to the Marquis — whose wishes Lionel himself respected — that, a change of scene being likely to stimulate his granddaughter, a Parisian sojourn would perhaps result in the heir that he longed for so much.  This was the right string to pull, and the Baronne, with her crass shrewdness, had sensed it.  Once the Marquis had assimilated this idea, he became the most zealous advocate for the trip.  Caroline did not dare to oppose it.  Her daughter, raised by her not to make more out of things than they deserve, resigned herself painlessly to an absence of a few weeks that would please her husband and show her this famous Paris, which the inhabitants of the provinces made out to be such a brilliant place at a time when communications, less easy in those days, kept them at more of a distance from it.
She would not have wanted to live there, but she was charmed at the thought of going to see the places about which her mother had so often told her, and made the preparations for her departure with the serene cheerfulness inherent in all her actions, the same cheerfulness with which she accompanied Lionel to the end of the drive on his frequent excursions in the district, and the same with which she greeted him on his return, without complaining when he postponed it beyond the duration that had been fixed.
Comtesse Gustave observed the calmness of this pure soul, whose true vigour she knew, and trembled at the thought of seeing this life founded entirely on a non-existent feeling troubled.  The Comtesse Lionel piously believed that her love for Lionel was true love; her mother knew better and grasped that it was nothing of the sort.  It was with the unease caused by these reflections prompted by this situation that she wrote to her sister, the Maréchale d'Aubemer, the letter that we saw her read at the moment this tale began.
This is the end of Chapter 2.  Chapter 3 will follow next week.
Notes:
Convent school.  It was the custom for well-born girls to be educated at a convent.
The plural form of mademoiselle, i.e. misses.
Titles and names within a family can be confusing for the uninitiated.  Proper speaking, only the title of the head of a noble lineage, in this case the Marquis de Saveuse, existed in law under the Old Regime.  The titles of the other members of the family were only courtesy titles.  By custom, the children of a title holder used a title one rank lower, grandchildren 2 ranks lower, etc.  Here, Gustave de Saveuse is styled count.  The Marquis's nephew is styled baron.
Having ancestors who fought in the Crusades was a sign of ancient nobility.
Limousin was a province in its own right before the Revolution.  Nowadays it's part of the administrative region of Nouvelle Aquitaine in mountainous south-central France.
Wives were known by their husband's titles.  See above.
The Order of Malta is a chivalric order founded during the Crusades.  First based in Jerusalem, later in Rhodes, and finally in Malta, its mission was to assist pilgrims and fight 'infidels.'  In later centuries, its main function was to combat piracy in the Mediterranean.  It also functioned as a sort of exclusive Foreign Legion.  Younger sons and other impoverished noblemen from all over Catholic Europe often joined the Order for lack of opportunity at home.
In the 18th century, North Africa from Morocco to Egypt was known as the Barbary Coast.  Barbary corsairs were a threat to European ships in the Mediterranean until the early 19th century.
The relative solitude of country life.
Ausonia was the classical Greek name for Italy.
Third female lead.